UPDATED...Tropical Development in the Caribbean. Cold Fronts. It Must Be October.
8 PM
50% in 5 Days
Here in Raleigh.
The rain is arriving earlier than expected.
Timing is an important issue. Last night it said a small chance of rain and 100% tomorrow. After studying the line yesterday I told my husband we'd get rain late in the day today (vs Tuesday) and that's what happened. When you can't pin down the arrival of severe weather one day out ... it's a problem and as I have said a few times today the models are having an equally difficult time pinning down might happen with the area of convection in the Caribbean. As time goes by we will have a better idea what will develop (or not) later in the week.
I'll update more tomorrow. Til then... Sweet Tropical Dreams.
And if you haven't already read today's blog please keep reading and I hope you enjoy it!
Besos
BobbiStorm
* * *
So let's look at the Caribbean today vs what ever changing models have been hinting at over the last 48 hours. We have an area of consistent convection in the Caribbean and an array of cold fronts moving down into the Deep South. Consistent convection means it is not simply flaring up, falling apart and then flaring up again. It's easily noticed on any satellite loop. The NHC put up a yellow circle yesterday and an orange circle today. That doesn't mean a red circle will go up tomorrow, but it shows a trend and a pattern of concern on development of some sort of system developing in the tropics.
The models are caught between a rock and a hard place and the name of that rock is "Autumn" and the hard place is known as "Winter" and when we are in a period of transition from hot to cold with frontal boundaries dipping down punctuated by extremely warm periods of weather it's hard to say exactly what will happen with any given tropical system. Why you ask? Because it's all a matter of timing and if you don't get the timing spot on then you either miss the warm spot or the diving cold front. It's a very fluid set up this time of year and exactly when the "low" forms and "where" is the missing part of this equation. You can see the short term, medium term and long range below. There is a large range of possibilities on what will actually happen. Something will happen as in "WEATHER" but will it close off and get a name or simply be a large area coming off of a large Gyre in the Caribbean caught up in the spoke of the next strong Cold Front is the question. The path is more or less defined by both Climo and current weather patterns.
The above loop shows the short term.
Count the fronts.
A pattern is setting up.
Medium Range shows much rain.
Check the longer range solutions below.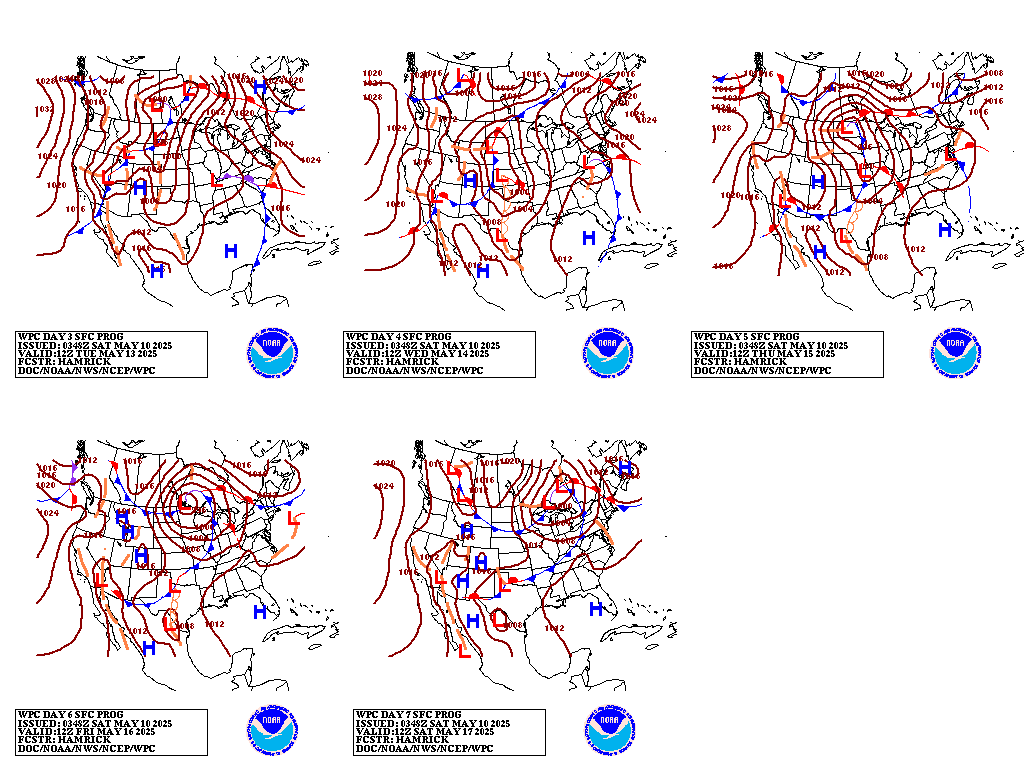 A "Low" Slowly forms.
Tries to ride a front out of the Carib.
Timing is everything because let's say a system formed fast today down by the Yucatan... It will follow the moisture surge (low pressure) up through Florida, but if it forms in a week from now the next front could push further South and it could weave it's way through Cuba staying just off shore of Miami and moving up along the coast flirting with the Outer Banks as either a named storm or a winter sort of Low that formed in the Tropics. Etc, etc you can extrapolate that scenario with multiple solutions. Yesterday the models were showing this solution below.
This morning Larry Cosgrove said this below:
I'll update later today as things progress.
We can see where it is NOT going below.
The loop below reinforces the image above.
BobbiStorm's Bottom Line:
Don't obsess but keep it in mind. Check back every six or twelve hours to see if the chances from the NHC have gone up or down. Follow your favorite weather people (me included) and go on about life enjoying today's weather. If you a baseball fan you are in World Series Heaven. If you are into Fall color you are out and about somewhere or surfing online looking at the changing colors. If you are a beach person ... take a walk on the beach. The Hurricane Season of 2017 will at some point end and that happens by slowly winding down from Category 5 Hurricanes to smaller storms usually (no guarantees on anything this year) and many people here who live along the North part of the Tropical Atlantic Coast are beginning to wonder when they will see their first flakes of snow. While boots in South Florida are merely a fashion statement, in the Carolinas they may be a need as cold fronts dance across the globe moving further South and night time temperatures get colder with each cold front. Flip flops on warm days, boots on colder nights... that's what October means in the Carolinas. In the Caribbean October means to watch any consistent area of convection for development and that is what we are doing. I'll update in real time at the top if anything huge happens. Huge may be defined here as getting a floater or an Invest being designated.
Have a coke.... take a walk... enjoy life.... do whatever you do and pretend you're 17 and do not obsess on more named storms until you got to and then we will deal with Rina or Philippe if they form. But with a name or without a name ... weather happens. The Fair is over in Raleigh and almost as if they paid off Mother Nature the sky turned gray and weather is moving in later today.
Labels: autumn, Caribbean, countrymusic, fair, Fall, tropics, weather, winter