Year of Reformation 2013: Gabrielle Back & Headed to Bermuda - Humberto Not a Cane - Carib to GOM in 5 Days Where's Isidore?
2013 is going to go down in history as the Year of the Reformation as Gabrielle is now the SECOND storm of the season to REFORM in the Atlantic about where the original models said a storm would be sitting down the road. So, the models are right on the tracks... not on intensity... and something unaccounted for is keeping what would seem to be viable waves from fully forming. I'm not going to go "there" and demand an answer for weather which is as capricious as it gets on a daily basis ...but there are questions which need to be answered at some point.
Gabrielle now joins Dorian as a reborn, reformed storm.
Remember 2013 was supposed to be the season with "no mitigating factors" in the report from NOAA itself and other sources such as Dr. Gray and Bastardi also concurred it would be "go for lift off" and yet every tropical scenario seemed scrubbed at T-minus 12 hours.
Today we have Tropical Storm Gabrielle that put on an impressive display last night of the most rapid intensification we've had all season. Normally "RI" would be stronger...but you play the cards you got this year and last night's loop on funktop and dvorak was impressive. Still is all things considered.
That's steady intensification for a system that is being affected by shear and chugging her way off towards Bermuda with a second possible landfall in Prince Edward Island.
Note the discussion:
DURING THE PAST 12 HOURS...INFRARED SATELLITE IMAGERY INDICATES DEEP
CONVECTION HAS DEVELOPED AND PERSISTED OVER AND TO THE EAST OF THE
WELL-DEFINED LOW-LEVEL CIRCULATION CENTER ASSOCIATED WITH THE
REMNANTS OF GABRIELLE. IN ADDITION...AN EARLIER ASCAT OVERPASS
CONTAINED SOME 34- TO 36-KT WIND VECTORS TO THE SOUTH OF THE CENTER
AND OBSERVATIONS FROM NOAA BUOY 41049 LOCATED MORE THAN 100 NMI
SOUTHEAST OF THE CENTER HAVE BEEN STEADILY INCREASING TO AT LEAST
31 KT OUTSIDE OF CONVECTION. BASED ON THE ABOVE DATA...ADVISORIES
HAVE BEEN RE-INITIATED ON TROPICAL STORM GABRIELLE. AN AIR FORCE
RESERVE AIRCRAFT IS SCHEDULED TO RECONNOITER THE CYCLONE THIS
AFTERNOON TO PROVIDE MORE DETAILED INFORMATION ON THE EXACT
LOCATION AND STRENGTH OF GABRIELLE.
What they are saying is.... based on an "ASCAT OVERPASS" which picked up data proving she was as good as she looked on the satellite imagery they upgraded her (re-initiated) before the scheduled recon for later today.
THE INITIAL MOTION ESTIMATE IS 360/10 KT...WHICH IS BASED MAINLY ON
LIMITED MICROWAVE FIXES. THE NHC MODEL GUIDANCE IS IN VERY GOOD
AGREEMENT ON GABRIELLE MOVING NORTHWARD TO NORTH-NORTHWESTWARD AND
SLOWING DOWN DURING THE NEXT 36 TO 48 HOURS AS THE CYCLONE MOVES
AROUND THE EASTERN PERIPHERY OF A RETROGRADING MID-/UPPER-LEVEL LOW
CURRENTLY LOCATED JUST NORTH OF THE BAHAMAS. ON THE FORECAST
TRACK...GABRIELLE IS EXPECTED TO PASS OVER OR NEAR BERMUDA IN ABOUT
24 HOURS. BY 72 HOURS...GABRIELLE IS FORECAST TO BEGIN TO LIFT OUT
AND ACCELERATE NORTHWARD AND THEN NORTHEASTWARD AHEAD OF A STRONG
MID-TROPOSPHERIC TROUGH AND FRONTAL SYSTEM THAT IS FORECAST TO MOVE
OFF OF THE U.S. EAST COAST BY 96 HOURS.  THE OFFICIAL FORECAST
TRACK IS CLOSE TO THE MULTI-MODEL CONSENSUS TVCA.
What they are saying is.. We are pretty sure she is going to affect Bermuda which is to her NNE give or take.
GABRIELLE IS EXPECTED TO REMAIN IN A MODERATE SHEAR ENVIRONMENT BUT
OVER 28-29C SSTS FOR THE NEXT 24 HOURS OR SO...WHICH SHOULD ALLOW
FOR SOME ADDITONAL STRENGTHENING TO OCCUR. THE INTENSITY IS
EXPECTED TO LEVEL OFF BY 48 HOURS AS SOUTHWESTERLY VERTICAL WIND
SHEAR BEGINS TO GRADUALLY INCREASE AHEAD OF THE AFOREMENTIONED
APPROACHING FRONTAL SYSTEM. AT 72 HOURS AND BEYOND...GABRIELLE WILL
BE MOVING OVER SUB-25C SSTS AND THE CYCLONE IS FORECAST TO BECOME A
POST-TROPICAL/EXTRATROPICAL LOW BY 96 HOURS WHEN WATER TEMPERATURES
WILL BE LESS THAN 20C. THE NHC INTENSITY FORECAST IS CLOSE TO THE
CONSENSUS MODEL ICON.

FORECAST POSITIONS AND MAX WINDS

INIT  10/0900Z 29.6N  65.0W   35 KT  40 MPH
 12H  10/1800Z 31.1N  65.0W   40 KT  45 MPH
 24H  11/0600Z 32.7N  65.2W   45 KT  50 MPH
 36H  11/1800Z 33.7N  65.7W   45 KT  50 MPH
 48H  12/0600Z 34.5N  66.3W   45 KT  50 MPH
 72H  13/0600Z 37.7N  65.9W   45 KT  50 MPH
 96H  14/0600Z 46.8N  58.6W   45 KT  50 MPH...POST-TROP/EXTRATROP
120H  15/0600Z 56.5N  41.9W   45 KT  50 MPH...POST-TROP/EXTRATROP

$$
FORECASTER STEWART

What they are saying is.. She may strengthen, but she is being sheared and we can't wait to write her off as a "extratropical low" or any name we can use to get her off the maps again. Do NOT expect her to become a hurricane.
$alient Point here.... a Tropical Storm is on the way to Bermuda. How do you like her now Bermuda? Maybe a Dark and Stormy on a dark, stormy night that Winslow Homer would have loved.
The 8 AM Intermediate Advisory says it all:
BULLETIN
TROPICAL STORM GABRIELLE INTERMEDIATE ADVISORY NUMBER   7A
NWS NATIONAL HURRICANE CENTER MIAMI FL       AL072013
800 AM AST TUE SEP 10 2013

...GABRIELLE HEADING TOWARD BERMUDA...
See what I mean?
HAZARDS AFFECTING LAND
----------------------
STORM SURGE...A STORM SURGE OF 2 TO 3 FEET ABOVE NORMAL TIDE LEVELS
IS EXPECTED ON BERMUDA. IN ADDITION...ROUGH SURF CONDITIONS WILL
BEGIN TO AFFECT BERMUDA BY THIS AFTERNOON. PLEASE CONSULT PRODUCTS
FROM YOUR LOCAL WEATHER OFFICE.

RAINFALL...GABRIELLE IS EXPECTED TO PRODUCE RAINFALL AMOUNTS OF
2 TO 4 INCHES OVER BERMUDA...WITH ISOLATED MAXIMUM TOTALS OF 6
INCHES POSSIBLE.

WIND...TROPICAL STORM CONDITIONS ARE EXPECTED TO ARRIVE IN BERMUDA
BY LATE TONIGHT AND CONTINUE INTO WEDNESDAY.

Winslow Homer loved to paint in Bermuda and spent time in the Bahamas and Key West. He captured them well...and this is what it looks like in Bermuda when a storm is coming...
Hurricane Igor in 2012
Compare that with the picture painted more than a hundred years earlier above.
Another image from a funky sort of blog is below.
http://www.yeppotalks.com/2009/06/24/a-funny-thing-happened-in-the-bathroom/
So...have a Dark & Stormy and make a toast to Gabrielle who proved what you learned in Kindergarten when reading that little red book ... "I think I can, I think I can" often does win the game and get the job done!
http://cocktails.about.com/od/cocktailrecipes/r/dark_strmy_cktl.htm
Says you are supposed to use "
Gosling's Black Seal rum and Barritt's ginger beer"
but feel free to improvise... seems Gabrielle did when she found a way to beat the odds and the NHC Obits.
Let's shift over to the Canadian Track Map as Gabrielle is forecast by the NHC to affect the Canadian Maritime Provinces.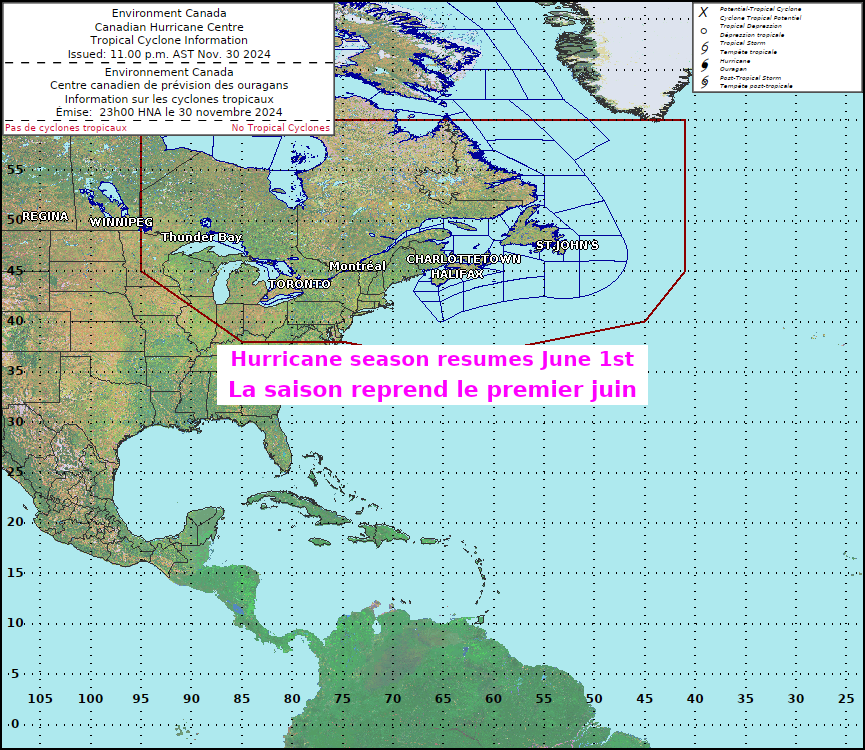 Information for all you people afraid of any vacation destination north of Portland, Maine...
Both modern and old... cathedral reminds me of Key West and Savannah...
Check out other images from these sites:
http://www.gov.pe.ca
http://www.tripadvisor.ca/Tourism-g155022-Prince_Edward_Island-Vacations.html
http://en.wikipedia.org/wiki/Prince_Edward_Island
Hey it's a big world out there...
Check out it out and if you see a bumper sticker that reads PEI you now know it's Prince Edward Island. Canada. Rich hurricane history.
Now... let's move on to Humberto in the Eastern Atlantic.
Official discussion given here:
000
WTNT44 KNHC 100846
TCDAT4

TROPICAL STORM HUMBERTO DISCUSSION NUMBER   7
NWS NATIONAL HURRICANE CENTER MIAMI FL       AL092013
500 AM AST TUE SEP 10 2013

HUMBERTO CONTINUES TO STEADILY STRENGTHEN. SATELLITE IMAGES INDICATE
THAT THE ASSOCIATED BANDING FEATURES HAVE BECOME BETTER ORGANIZED
AND MORE SYMMETRIC AROUND THE CENTER...INDICATING THAT VERTICAL
WIND SHEAR IS DECREASING OVER THE CYCLONE. DVORAK CLASSIFICATIONS
FROM TAFB AND SAB WERE BOTH T3.5 AND UW-CIMSS ADT VALUES ARE ABOUT
THE SAME. BASED ON THESE ESTIMATES...THE INITIAL WIND SPEED IS
INCREASED TO 55 KT.

THE TROPICAL STORM IS GRADUALLY TURNING TO THE RIGHT...AND THE
LATEST INITIAL MOTION ESTIMATE IS 295/8. A TURN TO THE NORTHWEST IS
EXPECTED TODAY...FOLLOWED BY A NORTHWARD MOTION ON WEDNESDAY. THIS
ABRUPT CHANGE IN THE FORECAST STORM MOTION IS DUE TO A BREAK DOWN
OF THE SUBTROPICAL RIDGE THAT WILL BE CAUSED BY A MID- TO
UPPER-LEVEL LOW MOVING SOUTHWARD OVER THE CENTRAL ATLANTIC AND
ANOTHER LOW BETWEEN THE CANARY ISLANDS AND THE AZORES. A SHARP
WESTWARD TURN IS FORECAST TO OCCUR IN ABOUT 4 DAYS WHEN THE RIDGE
BECOMES RE-ESTABLISHED. THE NHC TRACK FORECAST IS IN FAIR AGREEMENT
GIVEN THE PRONOUNCED HEADING CHANGES...AND THE LATEST OFFICIAL
FORECAST IS CLOSE TO THE MULTI-MODEL CONSENSUS TVCA.

THE INTENSIFICATION TREND IS EXPECTED TO CONTINUE FOR ANOTHER 36
HOURS WHILE HUMBERTO REMAINS OVER WARM WATER AND WITHIN AN
ENVIRONMENT OF LOW WIND SHEAR AND HIGH MID-LEVEL MOISTURE. AFTER
THAT TIME...THE GLOBAL MODELS SHOW DRIER AIR AND SOUTHERLY TO
SOUTHWESTERLY SHEAR AFFECTING HUMBERTO. THESE UNFAVORABLE
ATMOSPHERIC CONDITIONS COMBINED WITH COOLER SSTS SHOULD CAUSE THE
SYSTEM TO BEGIN WEAKENING IN A COUPLE OF DAYS. THE NHC INTENSITY
FORECAST IS NEAR THE HIGH END OF THE MODEL GUIDANCE IN THE SHORT
TERM AND IS BASICALLY AN UPDATE OF THE PREVIOUS PACKAGE.

FORECAST POSITIONS AND MAX WINDS

INIT  10/0900Z 14.4N  26.6W   55 KT  65 MPH
 12H  10/1800Z 15.0N  27.5W   65 KT  75 MPH
 24H  11/0600Z 16.2N  28.3W   75 KT  85 MPH
 36H  11/1800Z 17.9N  28.8W   85 KT 100 MPH
 48H  12/0600Z 20.0N  29.1W   85 KT 100 MPH
 72H  13/0600Z 23.7N  30.0W   75 KT  85 MPH
 96H  14/0600Z 25.5N  32.5W   55 KT  65 MPH
120H  15/0600Z 26.0N  36.5W   45 KT  50 MPH

$$
FORECASTER CANGIALOSI

What they really are saying is:
He is still forecast to be a 100 MPH Hurricane, but he's not there yet. Doesn't look as great as yesterday but it's a slow process and it will strengthen and eventually turn towards the right and while over warm water it will become a hurricane ... but we may have to take it down a notch to 90 MPH because we are coming in higher than most the newest models are showing.
(We are waiting for the next model runs for intensity...and we aren't saying ANYTHING about a possible turn back to the LEFT later...shhh)
Imagery shows a nice Tropical Storm..not the savior of the 2013 HURRICANE SEASON but a nice storm never the less...
Note the dry air to the NW of Humberto.
Note the yellows, oranges and reds in the Caribbean and the sense that a High is a loft giving this area a favorable wink and a nod for development and the crack at the name Isabel which could become a Hurricane in the Gulf of Mexico ... but first it has to cross the Yucatan. Again, remember I've mentioned the Caribbean being a hotbed for possible development as we move into late September and early October.
$alient Point:
"
THIS SYSTEM HAS A LOW CHANCE...10
PERCENT...OF BECOMING A TROPICAL CYCLONE DURING THE NEXT 48
HOURS...AND A HIGH CHANCE...60 PERCENT...OF BECOMING A TROPICAL
CYCLONE DURING THE NEXT 5 DAYS"
Keep watching that area...
Another area to watch is an wave that a few people have quietly mentioned online and that shows up often on satellite imagery.
See the area to the WNW of Humberto that I referred to yesterday as being
"on a leash"
Happens often... flow of energy from one entity to another...
Another view of it in a loop...
Another dead give away for favorable possibilities is this chart: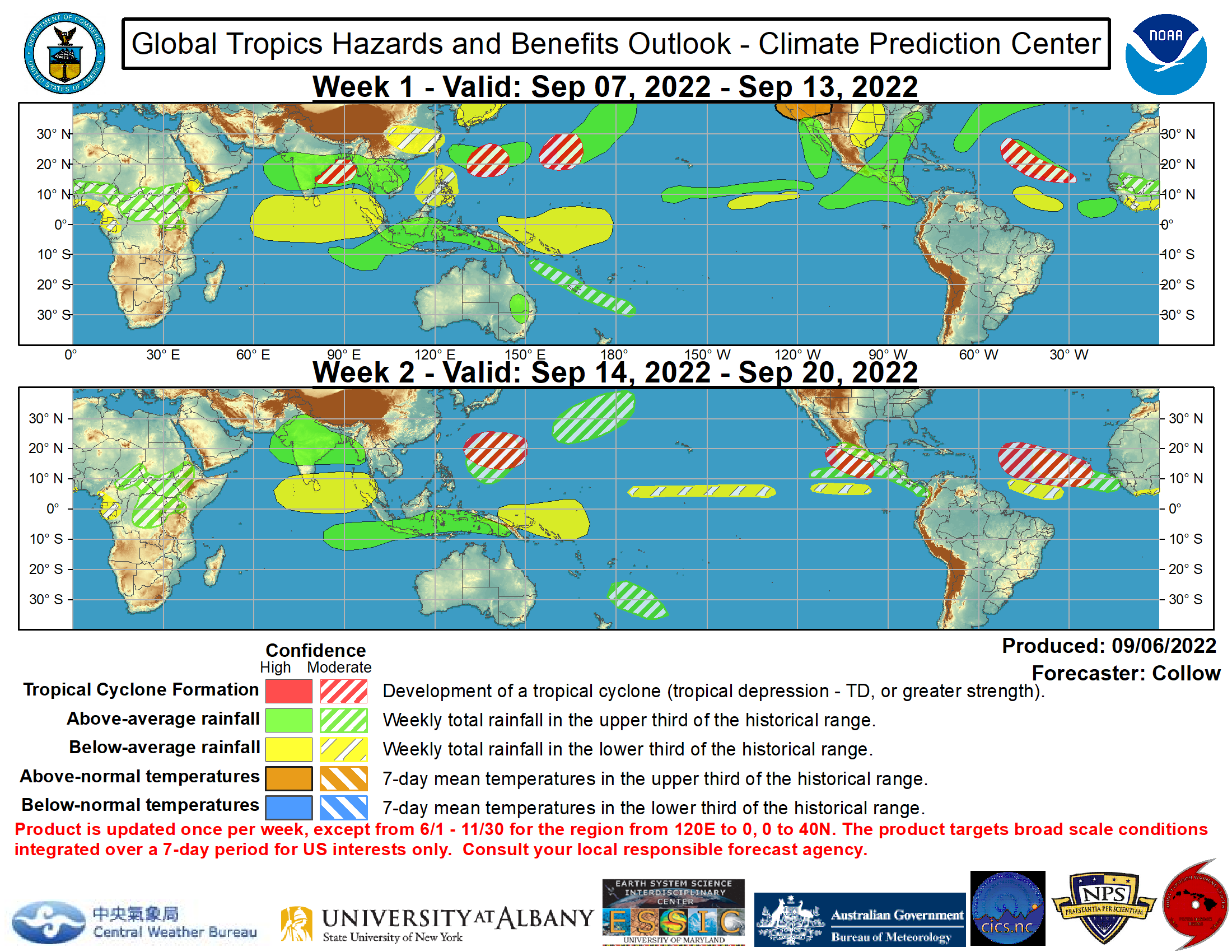 So, as we go into the peak of the season the season is pretty healthy except for an allergy to the word Hurricane. We are looking for the I storm...
The main problem with the area not highlighted on the NHC map, but there never the less is... dry air is surrounding it ....even though it's not highlighted it's got a nice little thing going there on the "juice loop" and again yesterday I referred to it as the system that broke up the tight grip of the High pushing tropical moisture into the heart of the big high. That was an impressive feat and does bear watching down the tropical road.
So....that's it.....
Song for the day.... Beach Boys... not my favorite and this is more Keys than Bermuda... but that's okay cause I'm in a wishing I was back in the Florida Keys kind of day... so just close your part of the brain that deals with reality and enjoy the video.. pretend it's outside the window... maybe it is Bermuda... I should check out flights from Carolina... hmmmnnnn
http://www.youtube.com/watch?v=99WQ8cRKa8g
Besos Bobbi
Ps... Figures I'd have to go through Boston... maybe just go to Tybee Island instead...
BDA put it into your favorite airline search and grab your passport...