Meteorological Fall and Hurricane Models vs my Victoria's Secrets Models....
Short update tonight because something is going on with Invest 97L and worth mentioning. Invest 97L is a tight little system and the emphasis there is LITTLE.
It's odd... there is a little tiny bit of green in it... use a magnifying glass...really.
Sort of bizarre in ways and won't know until the morning if it's really doing something or just cruising along with some sort of really ....small.... mid-level circulation.
Officially has an Orange circle with 30% chance of developing in the next two days.
This is an image..diagram of where the MJO is holding. No...it's not bored meteorologists doodling.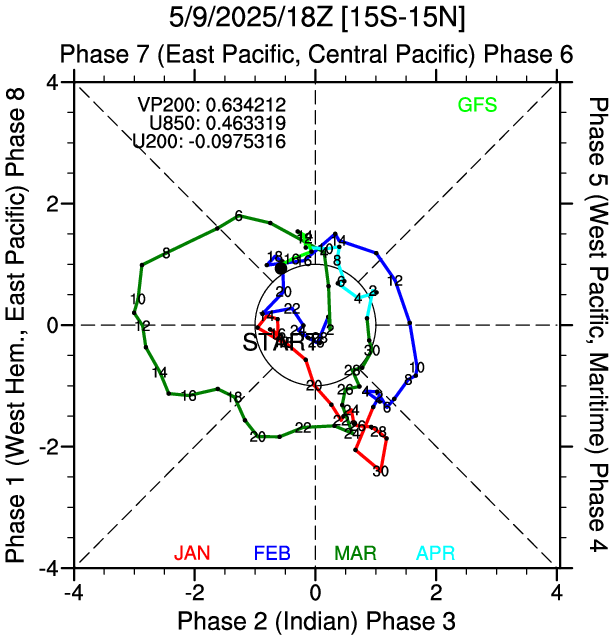 It says that the next few weeks should be very positive for development in the Atlantic with one of the strongest MJO signals in a long time.
The Invest in the Atlantic near Africa was as predicated a wash out. One way is trying to get in under the radar... hmnnnn tricky, sneaky.. maybe. The area by the Yucatan washed out from the big ULL and to be honest there is a COLD FRONT moving down into the Gulf of Mexico.
The double mint twins are the only game in town in the Caribbean.
Again.. models show the lead wave moving near PR and DR and the second one flaring up in a few days up in the Turks and then....they do an Indian Mating Ritual complete with cicada like mating calls around Cat Cay in the Bahamas and swirl around doing things so indecent I cannot even write about it here and maybe..form into something in 3 or 4 or 5 days.
Honest.
http://moe.met.fsu.edu/cgi-bin/gfdltc2.cgi?time=2013090318-invest97l&field=Sea+Level+Pressure&hour=Animation
For those of you who love fantasy and don't have a credit card to Victoria's Secrets... Gabrielle becomes a huge... larger than life hurricane in the Atlantic...
http://moe.met.fsu.edu/cgi-bin/cmctc2.cgi?time=2013090312&field=Sea+Level+Pressure&hour=Animation
For those of you curious on more accurate models... this is the Fall Forecast and trust me you can take it to the bank!
Blue and Gray are in for Fall..with a hint of paprika...
Hey you have your models and I have mine...
....if Victoria's Secrets was forecasting what Gabrielle would be wearing...
it would be super reliable ;)
Besos Bobbi
Fall...............
Cold Fronts.......................
Turning Leaves......
Maybe it's time we wake up and smell the coffee...
Cause if the MJO doesn't force the waves to turn and shimmy and twist themselves all about
nothing will.
Maybe Invest 97L is the real thing...
But I have plenty of friends who are watching the one behind the lead wave to the West...
sweet tropical dreams
night... Gracie