Chantal Moving FASTER... Stronger...Recon in the storm... A look back at Debby 2000 ...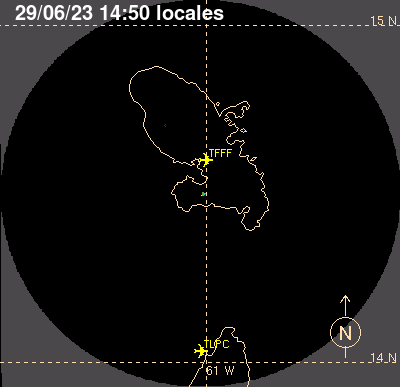 Moving into the Caribbean and in doing so will post information or links to Carib Weather sites.
www.stormcarib.com One of the best sites for hurricane weather IN the Caribbean.

At 11 AM Tuesday Morning Tropical Storm Chantal was located at 14.4 N and 61.5 W and she has SPED UP and is now moving at 29 MPH. Hey...she finally changed her forward speed... and she's moving faster.
11:00 AM AST Tue Jul 9
Location:
14.4°N 61.5°W
Moving:
WNW at 29 mph
Min pressure:
1006 mb
Max sustained:
60 mph
As of now there is a bigger concern on her forward speed for me than any mountains she may cross in Hispaniola. Her speed affects her timing down the road and usually (though not always) speed this fast opens up the possibility of her outrunning her center or disrupting her structure. And, if the high is weakening she should be slowing down...so my question is why is she moving SO FAST?
The cone remains the same. Many models do show her moving west under an expanding westbound high building back in and making landfall in Florida. The NHC has wisely chosen to be careful, cautious and conservative with their cone for the very long range end point of their cone.
(Yes Alfred Miami is in the cone...)
Discussion shows the following points:
"
A RECONNAISSANCE PLANE REPORTED FLIGHT LEVEL WINDS OF
70 TO 75 KT NORTHEAST OF THE CENTER EARLIER TODAY WITH A MINIMUM
PRESSURE OF 1003 MB. SINCE THAT TIME...THE PRESSURE HAS LEVELED OFF
TO ABOUT 1006 MB. BASED ON MORE REPRESENTIVE OBSERVATIONS FROM THE
PLANE...AND SURROUNDING ISLANDS...THE INITIAL INTENSITY IS SET AT 50
KNOTS. THE ENVIRONMENT AHEAD OF CHANTAL IS NOT VERY FAVORABLE FOR
INTENSIFICATION...AND ONLY A SLIGHT INCREASE IN THE WINDS IS
FORECAST BEFORE CHANTAL CROSSES HISPANIOLA."
Note that Avila doesn't like Chantal anymore than the Euro does... her presentation on satellite imagery
is weak, her radar signature is beautiful and recon did find stronger winds and low pressure.
"
I AM SURPRISED THE SYSTEM EVEN HAS A CLOSED CIRCULATION
MOVING AT THAT SPEED. CHANTAL IS BEING STEERED BY A RATHER STRONG
EASTERLY FLOW SOUTH OF THE SUBTROPICAL RIDGE OVER THE WESTERN
ATLANTIC.  HOWEVER...AS THE STORM MOVES OVER THE EASTERN CARIBBEAN
AND HISPANIOLA...THE HIGH TO THE NORTH IS FORECAST TO WEAKEN AND
THE CYCLONE SHOULD TURN MORE TOWARD THE NORTHWEST WITH A DECREASE IN
FORWARD SPEED. BY DAY 4 AND 5 THE STERING CURRENTS WILL BE WEAK AND
CHANTAL WILL PROBABLY MOVE VERY SLOWLY IN THE VICINITY OF THE
NORTHWESTERN BAHAMAS. THE OFFICIAL FORECAST IS SIMILAR TO THE
PREVIOUS ONE AND IS BASICALLY ON TOP OF THE MODEL CONSENSUS. 


FORECAST POSITIONS AND MAX WINDS

INIT  09/1500Z 14.4N  61.5W   50 KT  60 MPH
 12H  10/0000Z 15.8N  65.0W   55 KT  65 MPH
 24H  10/1200Z 17.4N  68.5W   60 KT  70 MPH
 36H  11/0000Z 19.3N  71.5W   35 KT  40 MPH...INLAND
 48H  11/1200Z 21.3N  73.6W   35 KT  40 MPH
 72H  12/1200Z 24.5N  76.0W   45 KT  50 MPH
 96H  13/1200Z 26.5N  77.0W   45 KT  50 MPH
120H  14/1200Z 27.5N  78.0W   40 KT  45 MPH

$$
FORECASTER AVILA"
Vortex message from the plane is posted here from DanielW on www.fllhurricane.com
Product: Air Force Vortex Message (URNT12 KNHC)
Transmitted: 9th day of the month at 13:08Z
Aircraft: Air Force Aircraft (Last 3 digits of the tail number are 302)
Storm Number & Year: 03L in 2013
Storm Name: Chantal (flight in the North Atlantic basin)
Mission Number: 2
Observation Number: 06
A. Time of Center Fix: 9th day of the month at 12:57:20Z
B. Center Fix Coordinates: 13°56'N 60°42'W (13.9333N 60.7W)
B. Center Fix Location: 20 miles (31 km) to the ESE (104°) from Castries, Saint Lucia.
C. Minimum Height at Standard Level: Not Available
D. Estimated (by SFMR or visually) Maximum Surface Wind: 55kts (~ 63.3mph)
E. Location of the Estimated Maximum Surface Wind: 42 nautical miles (48 statute miles) to the ENE (62°) of center fix
F. Maximum Flight Level Wind Inbound: From 118° at 70kts (From the ESE at ~ 80.6mph)
G. Location of Maximum Flight Level Wind Inbound: 47 nautical miles (54 statute miles) to the ENE (60°) of center fix
H. Minimum Sea Level Pressure: 1010mb (29.83 inHg) - Extrapolated
I. Maximum Flight Level Temp & Pressure Altitude Outside Eye: 20°C (68°F) at a pressure alt. of 364m (1,194ft)
J. Maximum Flight Level Temp & Pressure Altitude Inside Eye: 23°C (73°F) at a pressure alt. of 366m (1,201ft)
K. Dewpoint Temp (collected at same location as temp inside eye): 23°C (73°F)
K. Sea Surface Temp (collected at same location as temp inside eye): Not Available
L. Eye Character: Not Available
M. Eye Shape: Not Available
N. Fix Determined By: Penetration, Wind, Pressure and Temperature
N. Fix Level: 1,500 feet
O. Navigational Fix Accuracy: 0.02 nautical miles
O. Meteorological Accuracy: 2 nautical miles
Remarks Section:
Maximum Flight Level Wind: 70kts (~ 80.6mph) which was observed 47 nautical miles (54 statute miles) to the ENE (60°) from the flight level center at 12:41:00Z
Sea Level Pressure Extrapolation From: Below 1,500 feet
Very little model discussion from the NHC.. more explanation of Avila's surprise and the facts which are she is a strong yet fragile storm with sufficient winds moving fast into a less favorable area for further intensification and the most favored models do not like her very much as far as her long term chances of surviving the trek to South Florida or the lands beyond.
Good link for current info on Martinique.
http://www.meteo.gp/donnees/bulletin/3h/bul_3h_mart.php
"
Tuesday, July 9, 2013
Weather France Martinique, hello!
At 5:30, the level of vigilance ORANGE CYCLONE to Martinique because of the passage of Tropical Storm Chantal.
Heaven is loaded.
The showers are regular crossings.
Showers or thunderstorms are locally supported.
The north-easterly wind currently blowing 25 to 45 km / h on average and is expected to strengthen.
The sea is smooth to slight near the Caribbean coast and agitated in the Atlantic and the hollow channels with means of 2 meters, up gradually.
8:30 Next newsletter."
Nice video from Martinique of Chantal. Wish I was there...this is as close as I am getting for now..
https://vine.co/v/h7repQETwvw
Again... current wind profile which basically means... "SO FAR THIS IS WHERE CHANTAL HAS BEEN"
Again... Debby from 2000
The same issues come up over and over when you review similar storms with similar problems.
THE CONTINUED RAPID MOTION IS KEEPING ABOUT 10 KT OF SHEAR OVER
DEBBY...WHICH IS SLOWING INTENSIFICATION. THIS IS LIKELY TO
CONTINUE FOR THE NEXT 24-36 HR...SO EARLY IN THE PERIOD FURTHER
STRENGTHENING IS LIKELY TO BE SLOW AND UNSTEADY. AS THE STORM
SLOWS...CONDITIONS MAY BE MORE FAVORABLE FOR DEVELOPMENT IF DEBBY IS
NOT OVER HISPANIOLA OR IS NOT UNDER THE 200 MB NORTHWEST FLOW
FORECAST OVER PORTIONS OF THE WESTERN ATLANTIC BY 72 HR. IF THESE
EXTREMES DO NOT OCCUR...DEBBY MAY BE STRONGER THAN CURRENTLY
FORECAST BY 72 HR.
FORECASTER BEVEN
FORECAST POSITIONS AND MAX WINDS
INITIAL 22/0900Z 17.7N 62.6W 65 KTS"
Great resource online:
http://www.stormpulse.com/message/200007/10/3
Note the excellent discussion by Beven concerning Debby's forward speed and possible interaction with high terrain.
Again.. this storm is not exactly like Debby but there are similarities. There was concern for her poor presentation (which means she didn't look great...) but the models loved her. Luckily, our models have improved tremendously since 2000. Our ability to look at what we see with even better satellite imagery and even better models and put together a confident forecast has improved. And... things always happen that change in real time, but in general we have gotten "more better" as we say Down South.
Debby came in higher and went across the North Coast of Haiti and the high was stronger.
NRL seems to be aiming Chantal at JAX...how often does that happen? And, maybe because when the models look like it may get hit...the storm forms apart? Maybe.
I'd say anywhere from Ft. Pierce to Charleston should pay very close attention to this storm... and people from the Florida Keys to the Outer Banks should check their weather APPs and favorite weather forecasters to see if anything has changed in the forecast....as things often change.
Of late... not much has changed. A comparison of the current Water Vapor and the Water Vapor from 12 hours ago show ... not much has changed.
This is why the cone has not changed much...
The models have changed seeming to flip flop every six or twelve hours.
Phil Ferro said this best in his blog earlier.
Every morning we have what seems different model input..
sort of like those daisies you play with as a child
"she loves me, she loves me not, she loves me"
(wow check this place out... I definitely want to go...)
this is sooo beautiful...sorry Chantal is Chantal..this is a great love story..
Back to Chantal...and the mountains of Hispanoila
It's not over until it's over which is a lesson we learned from Debby who didn't do South Beach... and Chantal may pull a trick or two out of her pocket and stay alive despite the Euro's disrespect for her and Avila's evident disdain and the big bad shear may get her and Pico Duarte may get her and her own fast life style may get her in the end as she may be running too fast... but............when she slows down and where she slows down...she may decouple and start to come apart... and maybe not..
It's all a book still be written..... we do not know the ending but there are a lot of signs. She has several hurdles to overcome... part of the hurdle is her own fast movement more than the shear down the road or the peaks she may have to tangle with ...she may be her own worst enemy.
That is what this is all about... she is a difficult storm to predict because of her small size, her fast forward speed and if anyone wants to take on an angry, hyperactive toy poodle named Chantal ....go for it...
I had an overly hyper active...anxious... mean... chocolate brown straight haired miniature poodle who took out several boyfriends and will never be forgotten.
Chantal is NOT a novelty (as one forecaster in Miami said) nor is insignificant...she is the first of many and her story has not yet been finished being written. Keep watching. There may be a Sequel in the works...
Pay attention.... stock up on your hurricane supplies. Make a list of what you will need or where you may need to go if you need to evacuate later this month...or summer and pay attention because it's only beginning.
Recon is in the plane still... you can read along here.
Oh...and as the new GFS was coming in just now... the server or sometihng bombed out and no one can get info. We will.... I'll look at the new models later today. Remember, climo is about history and history often repeats. Somes storms like this make it...some don't. Stay prepared either way... there are more out there. This is only the beginning as Matt Drudge pointed out the other day..
Besos Bobbi
Chantal up close
Chantal from far away: