8AM 95L 40% ... Cruising West
NHC has a real swimmer on it's hands here. Notice also how she has managed to develop a band like arm that reaches up into an area that is mostly covered in Saharan Dust and would normally be too dry to even think on development. Staying low has helped her, yet she is forecast to move out from the worst of the SAL in a day or two and be near the islands. Some models do have her Tropical Storm Chantal at the entrance to the "which way do I go zone" and there the models pull in different directions.
Here they are together:
Then they are not:
As usual some take her north towards the Outer Banks, some keep her south and take her into the Caribbean where could stay on the map for days and eventually end up in the Gulf and others take her up over the DR where she could fall apart or more on towards Florida. And, lastly...some models have her inexplicably falling apart in the Bahamas.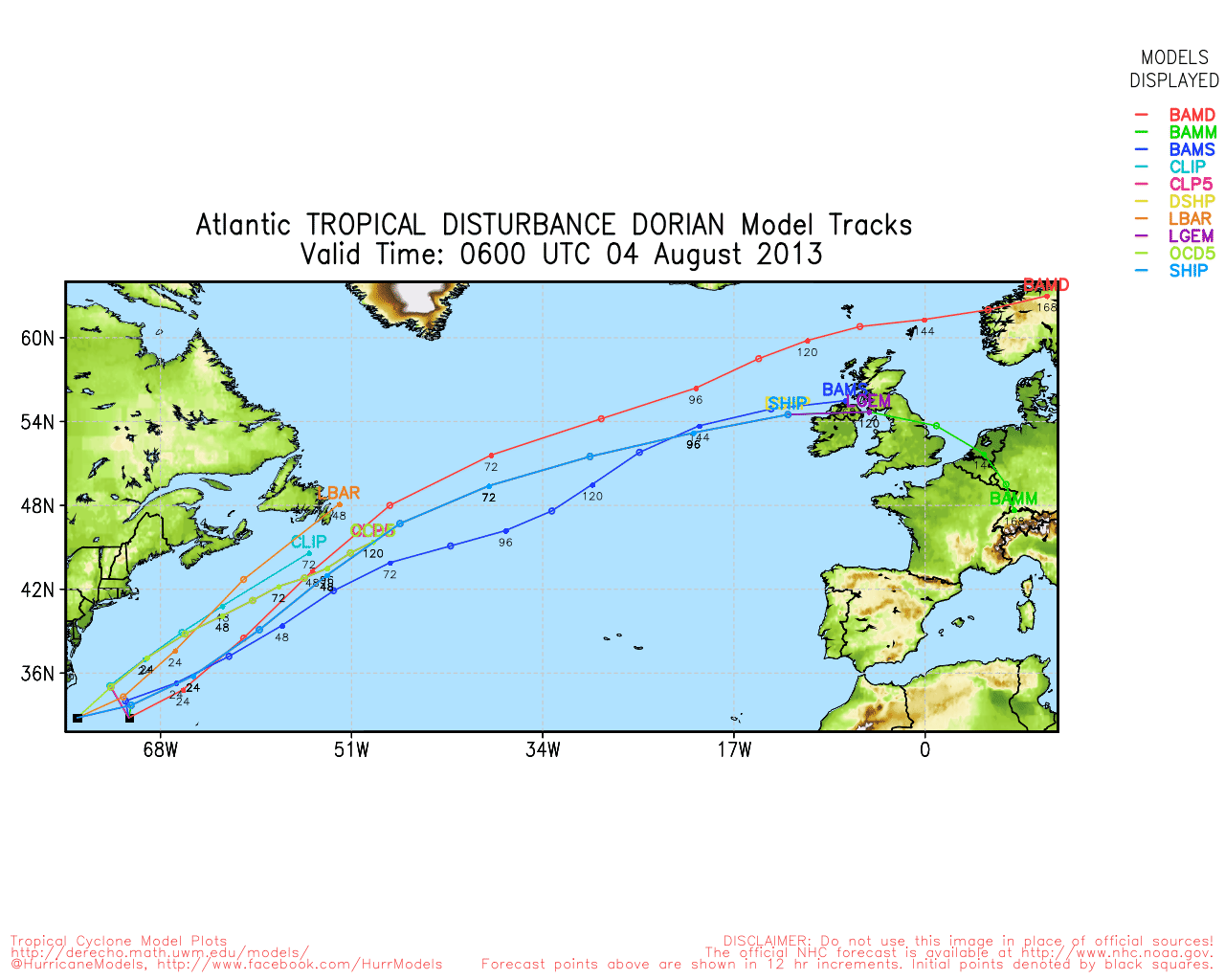 If I was Cuba I'd pay attention. Florida should pay attention. The NHC is paying attention and on top of it. They could upgrade based on satellite imagery, they prefer sending in planes. They may upgrade to Tropical Depression and upgrade to storm based on recon. Either way she's a fast swimmer.
What's "fun" about these far away, long distance waves is everyone is watching her.
WRAL in North Carolina has nice graphics up:
Hurricane Tracker APP aka points out the CMC model that continues to bring her up the SE coastline..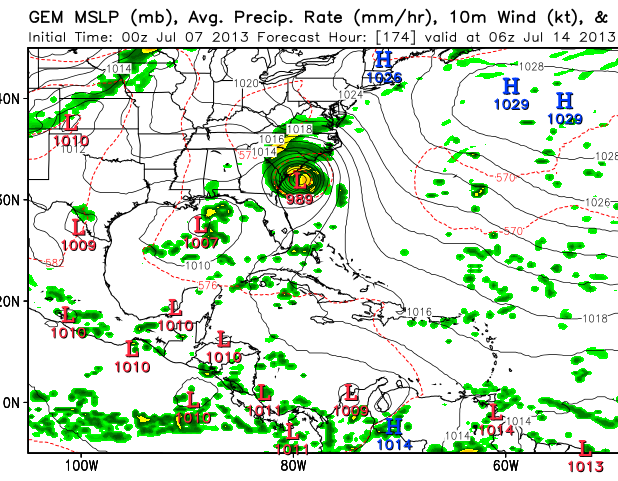 http://hurrtracker.com/
Houston is watching for the under Cuba through the Yucatan type of scenario:
Miami is DEFINITELY watching but at the moment they are talking about the Rip Currents and the Rip Currents are associated with the strong high...which bears remembering.
http://www.palmbeachpost.com/news/news/breaking-news/rip-current-warning-along-palm-beach-county-beache/nYfrF/
What keeps me thinking is not that the NWS doesn't have some named storm on the map for 7 days from now.. it does not even exist right now. I'm watching the High...the high suddenly snaps back and leaves a doorway open and the 7 day prognosis is... SE coast should watch IF Chantal forms and does not fall apart in one of the two graveyards of the Atlantic...one being Eastern Carib and the second being the high mountains of Haiti and Dominican Republic.
And, we all keep watching until she shows us the cards she may be holding in her hands... and she has very nice banding I may add for a "tropical disturbance" which is what she is currently.
Otherwise...everything I said in the previous post still applies. This morning's post is really an update to that post so read the last post. Definitely something to watch in the tropics today. And, the area in the Gulf of Mexico did not develop if anyone was wondering ....
Besos Bobbi