Raleigh Sleet. Traffic Jams .Duke UNC Game CANCELLED... Waiting on the Freezing Rain. 4 Inches of snow so far..
That's Raleigh traffic today not Atlanta...
... when it really did start to snow.. THEN people really believe
get in their cars and head home... all at once.
Note school WAS cancelled..
Sounds of silence have given way to the sounds of sleet...falling, ping, ping onto the deck and piling up onto the snow covered deck.
Again this is ALL moisture coming up from the Gulf of Mexico. Tropical moisture being pushed along fast in the flow as the Arctic Front dives down and shoves it up towards the Northeast. Note Florida is experiencing the Southern part of this mess with severe weather today.
Watch the aid DIVING DOWN over Kansas, Oklahoma into Texas and grabbing the GOM moisture and shunting it off towards the NE up across the Deep South with multiple forms of precipitation from snow to sleet to freezing rain.
Tampa Bay and most of South Florida is under siege from the same system that is affecting North Carolina.
You can see how the dry air is pushing the moist air and shoving this system into South Florida.
The geographic scope of this storm is massive. Look at the watches and warnings posted on Mike's Facebook Page.
To put this into perspective it's like Hurricane Donna that swept through the Keys, back up into Florida and up the whole NE part of the US.
Or the 1993 SuperStorm..
Good article. Note all those sort of HUGE storms have a meeting of moisture from the GOM up through the backbone of the East Coast.
http://www.wunderground.com/blog/sullivanweather/superstorm--15-year-anniversary
Meanwhile back in Raleigh people waited for the first flakes to fall before they decided to run home...despite the fact that EVERY NEWS source said to be home by Noon and hunker down. So, the news crews got caught out in the traffic which was not as bad as Atlanta but worse than it should have been...and she did her broadcast FROM the car stuck in traffic.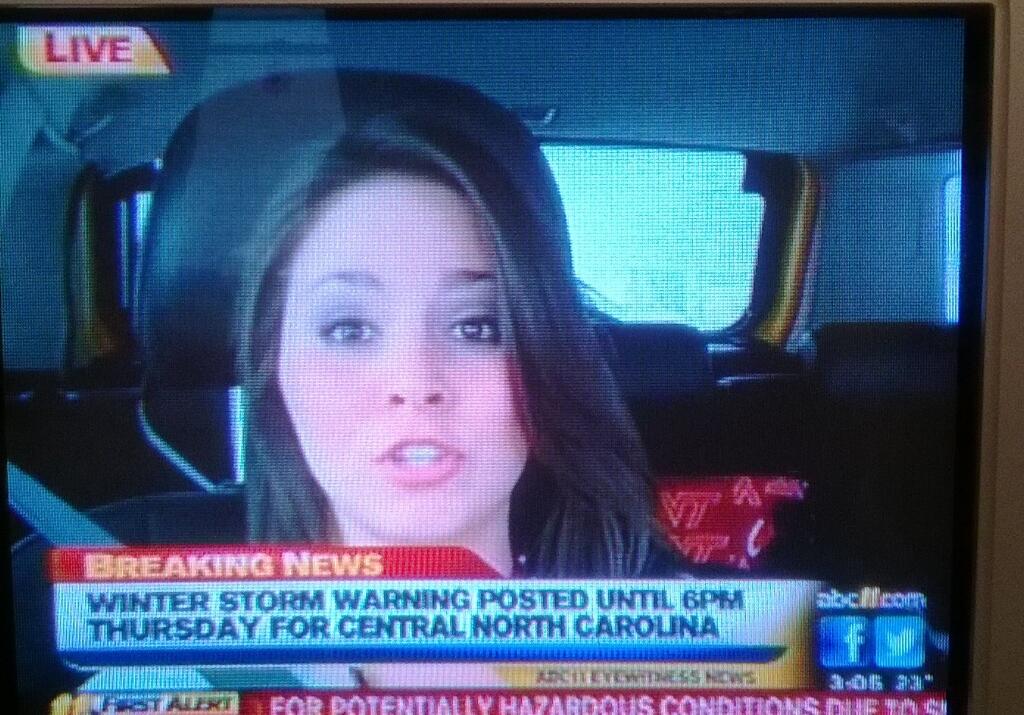 You just can't make this stuff up..............
Went for a walk... just before the sleet began.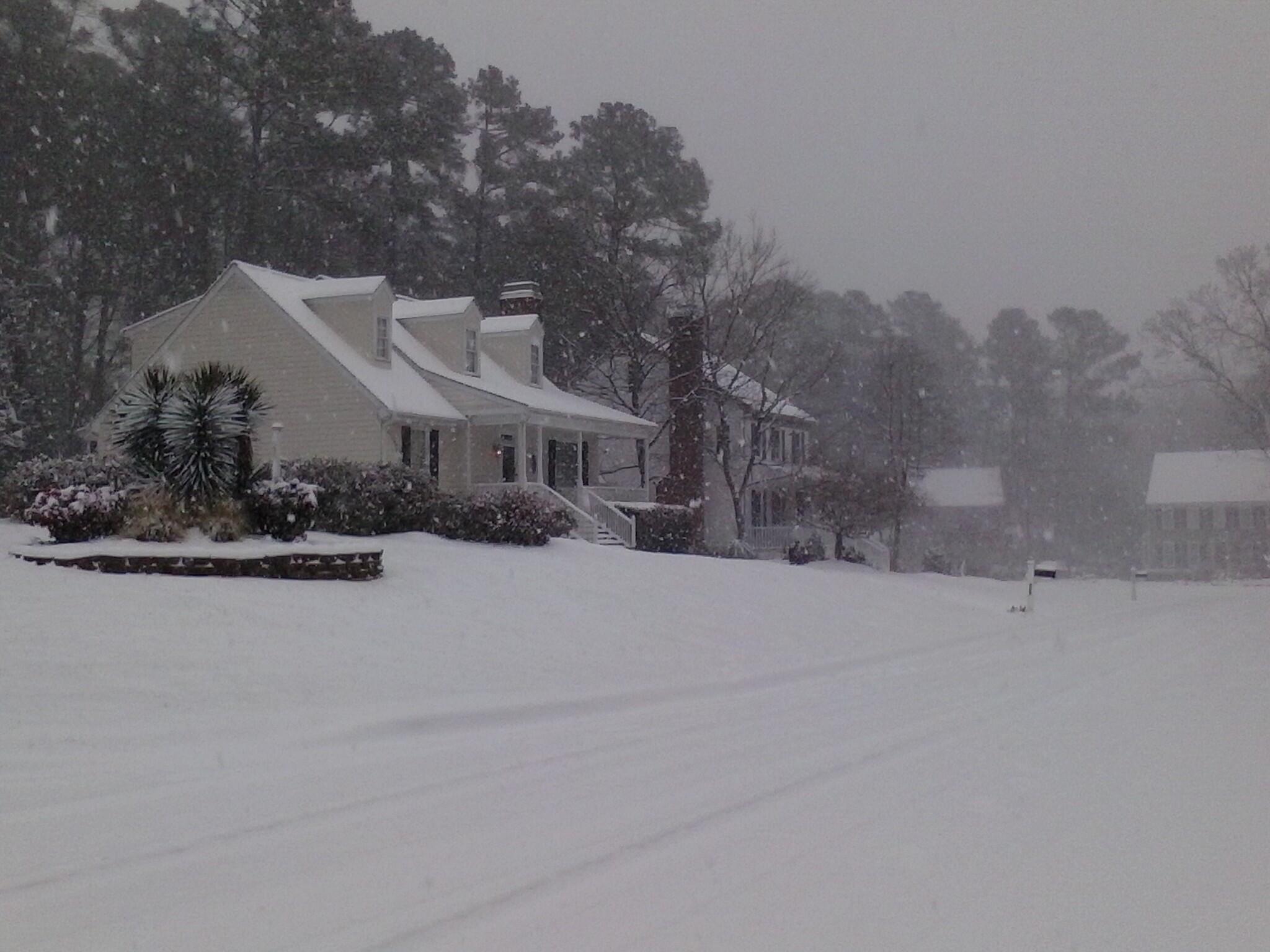 Back in and NOT going out again for a long time.
Oh....and the Duke VS UNC "Tobacco Road" game on ESPN has been postponed due to inclement weather. Don't think the teams were able to get to the stadium.. or maybe ESPN crew couldn't.
4 Inches of snow and possible power outages from an overnight ICE storm that might paralyze the area and the BIG story is "THE GAME" not going on...
Stay tuned...waiting to see if we really do get the expected ice...
Besos Bobbi
Ps... staying warm and for everyone who told me to "enjoy the storm" if I am not online as much.. it's because I am enjoying the storm.
Read the previous post for more information.
http://hurricaneharbor.blogspot.com/2014/02/snowing-in-raleigh-sweet-beautiful-snow.html