ICE WARNINGS UP FOR GEORGIA.. It Begins... Winter of 2014 ...Is it the Season in Hell for the South?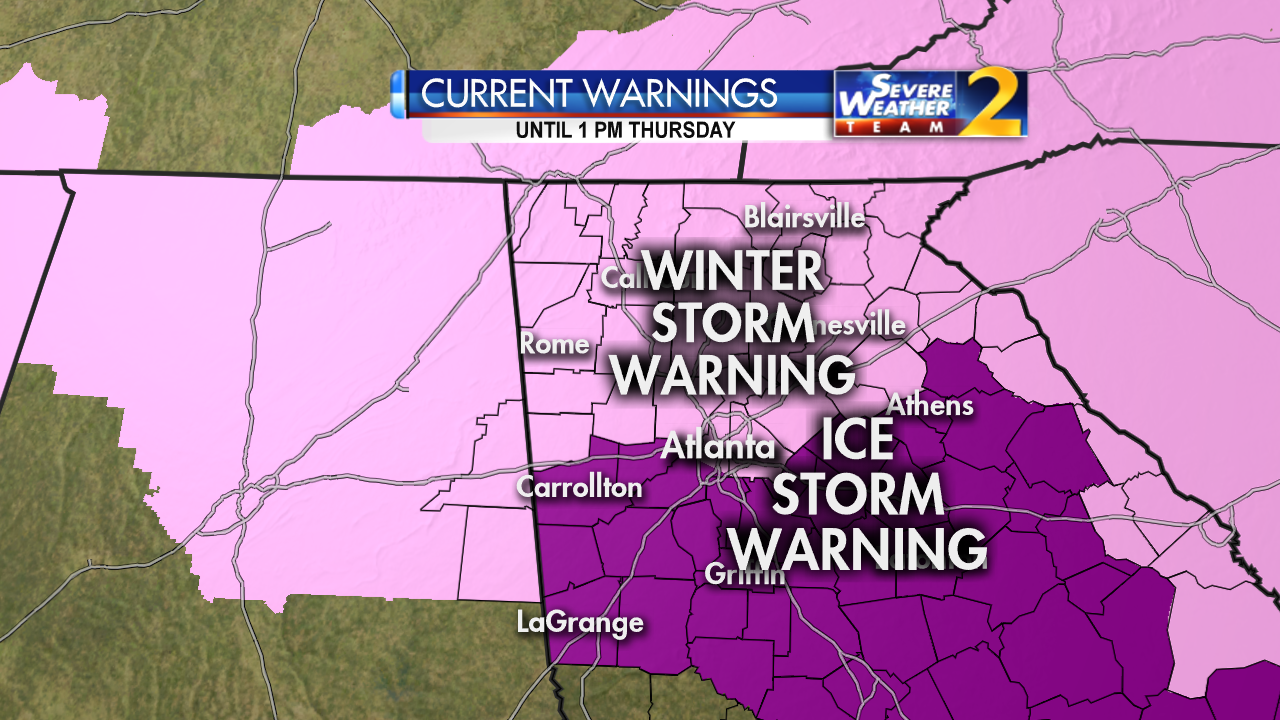 This is the 1st Ice Warning issued from the NWS for this 2014 ICE STORM.
Sort of like a Season in Hell ... as the colored water vapor shows the Birth of this Ice Storm..
Here are the players... low down in the GOM feeding the developing Southern Storm.. and the Upper Air Systems to the north...
The players are in place for a significant Winter Storm..and possibly a Historic Ice Storm.
Notice the severity of the statement out of Augusta from the NWS.
"
URGENT - WINTER WEATHER MESSAGE
NATIONAL WEATHER SERVICE COLUMBIA SC
752 PM EST TUE FEB 11 2014

...DANGEROUS WINTER STORM THROUGH THURSDAY MORNING...

...MAJOR ICE STORM EXPECTED...

.CANADIAN HIGH PRESSURE CENTERED TO OUR NORTH WILL DIRECT COLD
AIR INTO OUR REGION AT LOW LEVELS...WHILE LOW PRESSURE MOVES EAST
ALONG THE GULF COAST AND UP THE CAROLINA COAST TONIGHT THROUGH
EARLY THURSDAY. THE COMBINATION OF SUFFICIENT MOISTURE AND COLD
LOW LEVEL AIR WILL PROVIDE A MIX OF SNOW...SLEET...AND FREEZING
RAIN ACROSS THE REGION."
"* TIMING...MOST OF THE DANGEROUS WINTER PRECIPITATION WILL OCCUR
  FROM LATE TONIGHT THROUGH EARLY THURSDAY MORNING.

* IMPACTS...VERY DANGEROUS TRAVEL CONDITIONS WILL DEVELOP. WITH
  THE POTENTIAL FOR SIGNIFICANT ICE ACCUMULATIONS ON TREES...
  LIMBS AND POWERLINES NUMEROUS POWER OUTAGES WILL DEVELOP. SOME
  OF THESE OUTAGES WILL BE LENGTHY.

* WINDS...NORTHEAST 10 TO 20 MPH WITH GUSTS UP TO 25 MPH.

* TEMPERATURES...IN THE LOWER 30S."
Serious discussion and note people in Augusta are not used to losing power and being without power and heat with temperature in the low 30s. It's not a picnic under the magnolia trees... really.
In Atlanta they are having a lesser storm and still the wording is "major winter storm with crippling effects" and they are not expecting as much ice as Augusta..
NWS Discussion for Atlanta apologized for taking so much time to put out the update.
"
.MAJOR WINTER STORM WITH CRIPPLING EFFECTS STILL EXPECTED...
SHORT TERM /TONIGHT THROUGH WEDNESDAY NIGHT/...

VERY SORRY TO BE SO LATE WITH THIS BUT LOTS OF COORDINATION AND
TWEAKS TO THE GRIDS BASED ON THE LATEST MODELS."
http://www.redcross.org/prepare/disaster/winter-storm
"
IF YOU ENCOUNTER DOWNED POWER LINES...DO NOT TOUCH THE LINES
BECAUSE YOU COULD BE ELECTROCUTED. REPORT DOWNED POWER LINES TO
LAW ENFORCEMENT OR THE POWER COMPANY. PREPARE TO REMAIN IN A SAFE
SHELTER WITHOUT ELECTRICITY FOR MANY HOURS. OBTAIN VITAL SUPPLIES
SUCH AS BOTTLED WATER...NON-PERISHABLE FOOD SUCH AS CANNED
FOODS...MEDICINE...BATTERIES...FLASHLIGHTS AND A BATTERY POWERED
RADIO."
Up towards the Carolinas... the Charlotte forecast is usually excellent and shows a wide area.
Shows South Carolina covered in ICE.. this is a HUGE SWATH OF REAL ESTATE ...
Further up in NC specifically speaking the Raleigh Durham area... here is the most recent forecast by WRAL.
It's worth noting that Cantore is in Augusta for the ICE Storm ...
whatever that means.. means a lot to my friend living in Augusta..
who is from Florida.......not used to Ice Storms
and planning her daughter's "Big Fat Southern Wedding"
best laid plans of....... well you know how that goes.
TWC is big on graphics and has me in the power outages area to worry on...
http://www.weather.com/news/commuter-conditions/winter-storm-pax-snow-ice-atlanta-columbia-charlotte-raleigh-20140210
Planes were sent into the developing storm in the GOM by the Hurricane Center.. 

This radar loop shows where the ice is now...and where it is going and it shows where the storm itself is developing that will ride up the coast tomorrow and Thursday.
Totals in Down East North Carolina..as we call it for snow today were higher than expected. IF that trend continues and the next phase of this storm is also an over achiever we really may need to be worrying more than we are currently. No one was expecting so much snow this morning there. It was supposed to be a dusting to maybe 2 inches...not 5.0 inches. 
What bothers me is that the totals were way higher. Well..a lot bothers me. It bothers me I am freezing cold with the heat on tonight and what will be tomorrow night if we lose power and have no heat? Hmnn?
It's cold, my husband from way up north referred to it as "really cold out there" when he took out the trash. He normally plays down the cold. 
It's worth noting I have a very good weather friend who is one of the best, but not from this area and he thinks we will get mostly rain not so much ice and snow. Do I believe him? Yes and no. I factor it in and erred on the side of caution. 
https://www.facebook.com/larry.cosgrove

http://models.weatherbell.com/news/gfs_2014021118_ptype_slp_east2.gif
Then there is the model above that shows the complexity of this forecast ... look at that final sort of tango step Pax does before leaving NC... 
The final step looks like a wrestling match ...push me, shove me.. swirl around in the snow and ice..

It's a big storm system... huge cloud system... this was posted earlier by Stu Ostro and shows the immensity of the storm.

I'm excited. I'm a little worried.. not really nervous, too excited to be worried. You do what you do to prepare and then you hunker down. That's about the best you can do.
What bothers me is that schools in Raleigh are in session tomorrow... which I don't like. They probably will do an early release from past experience. Durham insists they will have school tomorrow. Will see. Time will tell.
I'll be here tomorrow with updated information. Say a prayer for people in Georgia, because I have to tell you I have a lot of friends there with numerous tall pine trees in their yards that could come crashing down onto their homes, their lives... scary time there. Not like being out in Iowa somewhere on flat land watching the frozen unploughed fields and an occasional tree. 
And, remember one thing... without the moisture from the deep tropics there would be no Ice Storm..

Stay safe, be prepared and hunker down if you are in the path of PAX ...
Sweet Tropical Dreams.. in the midst of a cold, cold winter.. 
BobbiStorm
http://www.esl.lsu.edu/imagery/atmosphere/ (old hurricane links to view the storm exploding)
http://www.youtube.com/watch?v=avPGk-XXEfE