Severe Line in Raleigh Durham...Power outages, trees down, signs down... moving 75 mph Forward Speed..
View from the PNC Building in Dowtown Raleigh...
It was really HOT before that line came through...
This line came in so fast you barely had time to grab the camera... to know which way to look.
Note these pictures were taken TWO minutes apart from almost the same spot!
The very first sign of a thunderhead was in the picture below... peaking over the top of the trees.
I walked down to the street to get a better view... less than 2 minutes..
The result... 50,000 people at least in the Raleigh area without power..
5 Points Area of Raleigh
Local Damage Reports:
http://www.heraldsun.com/breakingnews/x265260970/Chapel-Hill-and-Durham-report-downed-trees-lines
[UPDATED] Chapel Hill and Durham report downed trees, lines
Jun. 13, 2013 @ 06:49 PM
Durham and Chapel Hill police are reporting downed trees and power lines, as well as traffic signal outages, in several areas.
Incidents in Durham include:
Tree hit home on Colorado Avenue
Tree hit home on Burnwood Court.
Tree on power line, brush fire on Pineview Road.
Tree across road at Junction and Ross roads.
Tree across road at West Club Boulevard at Maryland Avenue.
Large tree down at the 2200 block of Arrington.
Tree on power line at 1300 block of Hudson Avenue.
Tree in road on Erwin Road near Sage.
Large tree down in road at Ellis and Ed Cook roads.
Large tree down on Linden Oaks.
Pole snapped in half on Rugby Road.
Incidents of downed trees and power lines in Chapel Hill reported at:
East Rosemary Street and Pickard Lane.
300 block E. Franklin St.
600 block W. Franklin St.
2100 block N. Lakeshore.
W. Cameron and Roberson Street.
Morgan Creek and Fordham Boulevard.
Davie Circle.
Ephesus Church Road.
Merritt Mill and Edwards Street.
Fordham Boulevard at Blue Cross Blue Shield.
100 block of Church Street.
South Road. and Country Club.
100 block Lancaster Drive.
Manchester and Ironwoods Drive.
Smith and Dawes Street.
I spent the hours before the storm cleaning up around the house and resting out in the hammock. Interesting to get a few for the change by being away from the TV... lying in the hammock watching blue skies and then..........suddenly.............it changes.
Look at the dip in the atmosphere on the water vapor loop... tango dancer doing a dip DOWN...
A taste of some of the up to the minute twitter feed.
WOW this picture of this car is crazy. a tree fell on it near morgan st in downtown raleigh

I remember when hurricane Fran came to Raleigh she twerk some crazy and sent a whole tree through our living room
One minute nothing... I'm just swinging away gently, relaxing... blue skies
And, then... like JAWS music a cloud moves fast across the blue..
Just my radio weather and a bottle of water..out in the hammock... Nothing...
Then suddenly everything changed............
Picture from Chapel Hill... Franklin Street...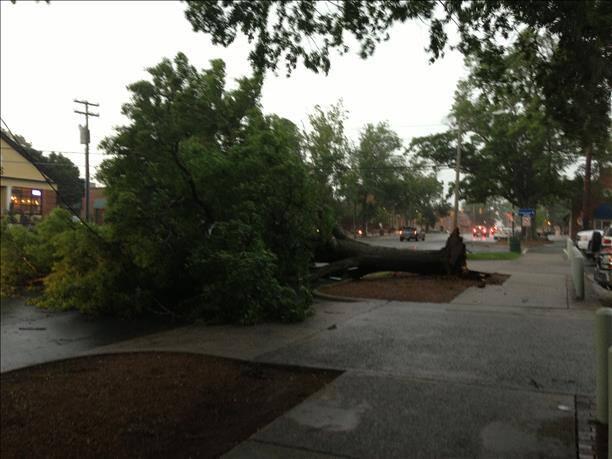 Stay safe.. more later and oh by the way.........the GFS ensemble says something will form in the Caribbean in about 15 days or so... and I'll be where I need to be it seems ;)
more on that later.........
I have some good video........but my cell phone ain't workin' well
Besos Bobbi