AFTER THE STORM. . . (small yellow circle in the gulf)
Just a note to say there isn't much going on in the tropics today. The circle might not be there tomorrow...
There is an area of convection in the Gulf of Mexico that is either left over from Andrea or a semi-permanent feature in the tropics these days.
I'd like to gather some data about Andrea who raced from NC to Nova Scotia faster than anyone could imagine today.
She left a lot of flooding in her wake. I have friends who had between 6 and 16 inches of rain outside their homes late yesterday in Miami from a strong band that went through after she had gone through Carolina already. She had long, long legs....
Aventura flooded. North Miami Beach Flooded. Everywhere flooded.
In Hallandale a friend of mine went out to get flowers for his wife for Shabbos... he posted this picture with the saying "the car didn't make it" and he was not joking... it always floods in Hallandale, then again it's close to the beach and a beautiful place to be if you are going to be flooded...
Sandbags were given out today in that area...
http://www.sun-sentinel.com/news/broward/sfl-sandbags-distributed-in-rainsoaked-southern-broward-20130608,0,4453518.story
Understand... every home that had water enter it (and many did) has to have repairs...standing water is a pain in more ways than you can imagine unless you have ever tried to clean up after a flood..even a small one.
Pictured is Rabbi Leibel Miller on his way home in Hallendale Beach, Florida carrying flowers for Shabbos, "the car didn't make it" he wrote. Florida is getting battered by falloff from tropical storm Andrea, with flash flooding from excessive rainfall.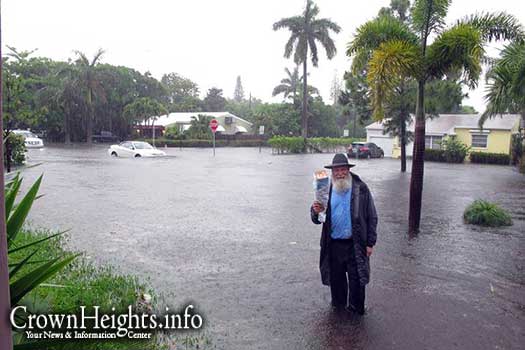 I asked my best friend what she did on Shabbos ..the Jewish Sabbath in North Miami Beach. Her response was:
"

We stayed home...Rained and I didnt have rubber boots that high over 6 inches of rain on the sidewalk
k"
There will be a dollar amount when all is said and done that will blow a lot of people away. She created a lot of minor damage (trees falling on cars, flooding in homes and businesses, trees down.. ) that when you multiply it by ALL THE PLACES SHE WENT..and brought her flooding rains to will total up to a high figure in dollar amounts to replace and repair things damaged by water and trees crashing through homes in tornadoes. That's the irony of a storm like Andrea.. you can laugh it off as nothing much more than a rainstorm...but the price tag will be staggering when it is added up.
How many places had flooding rains from this storm? Allison stayed neatly in Texas for the most part.. Irene flooded out Miami way back......
Widespread flooding which has a price tag with it.. Cars were abandoned in standing water (some never quite the same, others fine) ..businesses flooded out. A lot of tree damage and a lot of those big pine trees crashed onto people's cars and home and businesses. From Miami to Maine and a few places north and south of that.
Don't be surprised when you hear the bill... the total dollar amount.
Taking some time tonight to relax and listen to music..talk to friends and the same tomorrow.
As for me... I had a great day today. Rained yesterday like crazy and a lot last night and today the sun tried to come out. The fireflies danced in the yard tonight at sundown and have a to do list for tomorrow a mile long... let's see how much I get done. But, today... was one of those beautiful days when you just lay there...or stare out the window and think... "wow, this a beautiful day" and after the storm I am here... wondering on when we will have another one...and wondering where Barry is hiding?
Sweet Tropical Dreams
Bobbi
http://www.youtube.com/watch?v=pFB3neJhIvc
Ps... not sure if this is good or bad... Sears is sending out emails reminding us they are there .. with the tag line in my email AFTER THE STORM ... hmmmmnnn