Tropical Storm Alvin...IN the PACIFIC...
ZCZC MIATWOEP ALL
TTAA00 KNHC DDHHMM

TROPICAL WEATHER OUTLOOK
NWS NATIONAL HURRICANE CENTER MIAMI FL
500 PM PDT THU MAY 16 2013

FOR THE EASTERN NORTH PACIFIC...EAST OF 140 DEGREES WEST LONGITUDE..

THE NATIONAL HURRICANE CENTER IS ISSUING ADVISORIES ON TROPICAL
STORM ALVIN...LOCATED WELL SOUTH OF MAINLAND MEXICO.

ELSEWHERE...TROPICAL CYCLONE FORMATION IS NOT EXPECTED DURING THE
NEXT 48 HOURS.

$$
FORECASTER STEWART
Moving West away from land..........
And, so it begins... first in the Eastern Pacific and then in the Atlantic.
Posting these images just so you remember what BobbiStorm doing Hurricane Weather is all about.
Been a while.......
In the Indian Ocean Mahasen made landfall and is moving up into NE India.. inland after at least 10 people are dead (and really expect that number to CLIMB) in Bangladesh.
This is the MJO...we will discuss it more in detail later, but it is moving from the Indian Ocean East towards our neck of the woods.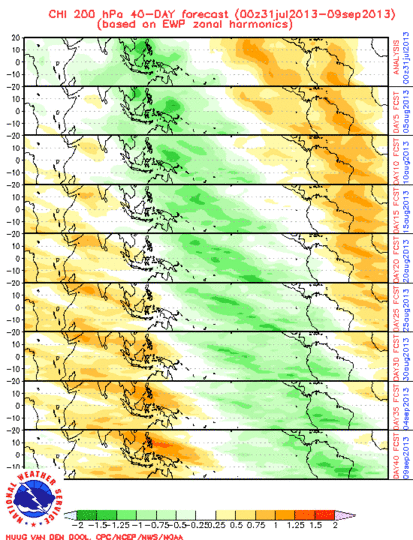 Worth reading up on:
http://www.cpc.ncep.noaa.gov/products/precip/CWlink/MJO/mjo.shtml
In Texas the horror of the mile wide tornado created damage that is horrific and memorable and I'm here to talk about tropical weather not tornadoes, but... if you want to watch the youtube video and haven't seen it I'm posting it. A Habitat for Humanity tract of homes were destroyed. If you wish to donate to this wonderful cause I'm posting the link at the bottom of the page.
http://www.khou.com/news/Tornadoes-large-hail-keep-North-Texas-on-edge-207653541.html
As much as people love to watch these storms form... we don't like to see them touch down..
Storm Chaser Video:
http://www.youtube.com/watch?v=aXq6AfxUWNk
In on our neck of the woods:
That system is moving East... that caused the destruction and death.. in Texas.
Going to get messy on Saturday...
That's a lot of rain on the way for the Carolinas and the East Coast.
Florida is having it's May Moonsoons and if it doesn't rain every day you got to wonder what's happening with the weather there :)
A small anomaly worth mentioning here that may have huge ramifications for the season down the road. There is a LARGE, HUGE pool of very hot water up in the North Atlantic.
If you saw those oranges and reds in the Atlantic near the Leeward Islands or the Cape Verde Islands you'd be really nervous. As a mater of fact...there are a lot of oranges and a few pockets of hotter water near the Cape Verde Islands.
As a friend likes to say "HMMMNNNNN...."
As for me..............I was busy the last few days eating a lot of really good food, spending time with family and friends and sitting on the deck staring at the sky and the trees and the bees and eating cheesecake and ice cream and pimento spread (home made) and cheese danish and salmon and chicken and I'm thinking there was brisket on Tuesday Night, but can't remember. Going to leave myself a note maybe tomorrow what we had... cause it might help me next year if I can't figure out what to make. Oh..and pineapple boats filled with fresh fruit and am drinking tea for the next day I think with an occasional egg or yogurt.
Strawberry Cream Cheese Noodle Pudding
And, we also fill our homes with flowers so I got a lot of new flowers for the table, the yard, the deck..well you get the idea and Ice Cream...
And Edwards Cream Pies and Phish Food Ice Cream...
And, that is that... stay safe, stay happy and stay informed.
Besos Bobbi
Ps
http://www.habitat.org/
<--------------donate ..="" class="goog-spellcheck-word" near="" or="" span="" style="background-color: yellow; background-position: initial initial; background-repeat: initial initial;" you="">Granbury--------------donate>
Texas. Just donate and you can sign up to work on the homes as well. My husband and my son have gone out there and worked on a project called Abraham Builds in the Raleigh area. Every area has a project and many have store where you can buy things and the money goes to Habitat. A great store if you are down in the Keys near Big Pine, for example.
http://stfrancispastoralministries.wordpress.com/2012/06/12/the-house-that-abraham-built/