Things I Do While Waiting for the Hurricane Season to Begin...
Funny to start this post off talking about football, when I said it's about waiting for the Hurricane Season... but let me state here. I REALLY MISS FOOTBALL! Note, come June..which cannot come too soon.. things start to percolate somewhere or we at least pretend they do and I am distracted by the reality that there is no football. And, then I am okay. I miss it.. the Miami Dolphins and other teams I follow, but I have hurricanes to look at or at least tropical waves to distract me from my missing football malaise.
These days you can find me getting cheap drinks at Hurricane Grill and Wings in Cary, when I am in Cary. I don't really eat much out, somewhere between kosher and being a flexitarian (means I eat meat when I want to) the drinks work better for me there than the rest of the menu. One good thing about North Carolina is that the drinks are so cheap. I mean $3.00 in Miami gets you a large Coke in a restaurant, in NC you can get a super size large drink of the day. One of the perks of being in the Carolinas... Then again, have a list of things to do in Miami that do not include cheap drinks.
In a silly mood. Can you tell?
So... this here is about as close to a hurricane as I am getting and the cute waiter asked if he could be in the picture. I think his name is Brian or Barry or something, whichever it doesn't matter. After sipping hurricanes in the middle of the day a girl is likely to do anything. And, definitely forget that it's May and no hurricanes are in sight and the only thing to do about football is dreaming that the players in the draft pan out and were a good dream gone right not a fantasy gone wrong.
My brother said mean things about the new retro logo. I think it looks like a pissed off dolphin if you ask me which probably connects well with pissed off fans who have deserted the Dolphins for the Miami Heat as the Miami Heat know how to win. Perhaps, they should haul all the new players of the Dolphins over to the Arena for every home game for a month or so and show them the intensity and intelligence a winning team has that knows how to play together and maybe... just maybe... some receiver will figure out how to catch Ryan Tannehill's passes and some lineman will figure out how to protect him and well I am digressing but I did tell you I really miss football, didn't I?
Or I go online and stare at this awesome picture to remember what a hurricane looks like...
Okay, it's a Typhoon but this picture of Sanba is the best Hurricane Art I can find...
So... I study random topics like geology and history and yesterday I helped my guy clean his garage. It's called "his garage" cause for half the year when he opens the door to the garage I beg him to shut the door FAST. It's cold out there. For several months it's too hot to go out there... Yesterday, on a rainy day in Raleigh, it was just right. So we cleaned it out. First Sundays in Pittsboro is fun, but not in the rain.
When you clean out the garage you hit rock bottom :( but he was happy and I found a box of hurricane "stuff" out there that I need to go through. No... not supplies... maps, books, papers that I use as my personal hurricane library.
Online I've been checking out sites and organizing my messy mind for the season that is and will be soon known as the 2013 Atlantic Hurricane Season.
Mike from Spaghetti Models Fame ..as well as Race Day Forecast Fame... just put up up his new site and I love it. I really love it! Did I mention how much I LOVE IT! Check it out, so much to play with on that site to familiarize yourself with places to go when there will actually be storms swimming west fast across the Atlantic Ocean.
Can't say how proud I am to on this page, it really covers the tropics and the weather in general better than any site I know. Yes, the NHC has their site. And, yes my hurricane friends have some great sites. But, when you need info and want something specific it's easy to scroll through fast to just the right image, just the right grid, the right blog, the right storm chaser and a friendly community of trackers who follow along on Facebook. You really cannot go wrong. It's the place to be in 2013!
And... on Twitter... you can follow along as well:
Sort of a triple play, home room.. touchdown... I'm really missing football.
Nascar is good, but better when you are there and it's bright and loud and windy and wild and the roar of the crowd and the smell of the gasoline and hairspray makes you sort of high in a delicious down home Southern Way though there are tracks everywhere.
Check it out... I should put up a pic of my son at Daytona...thinking on this one.. now that was a fun day of play.
(If Momma is a racing fan... Darlington is this coming Sunday... just saying... )
So, what have I learned from all of this scattered, messy research on various topics like plate tectonics and hurricane historical patterns? Something I want to emphasize this coming season when I do believe we will be in for long trackers and when I say long trackers I don't mean "all the way from Africa" I mean "coming to a inland city near you" if some of the experts are right with their predictions.
Several of the analog years have been years like 1979 which showed a lot of long tracking storms. And, storms like that can do massive damage INLAND not just at the sexy, beautiful beach where all the news stations are lined up for their iconic shot of landfall.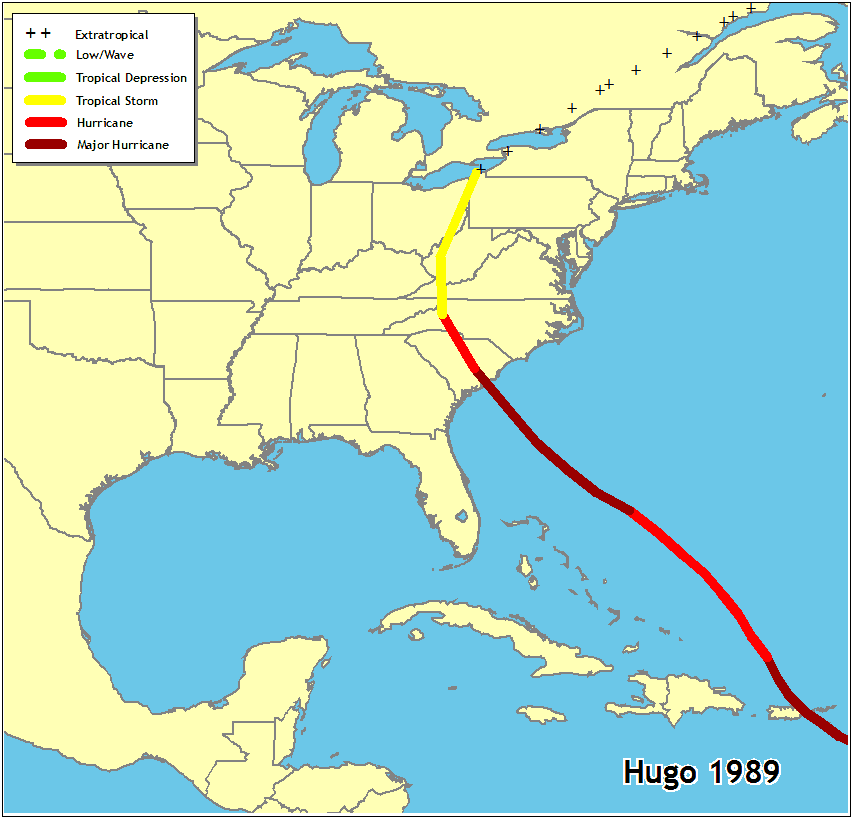 Note... Hugo scared the "hee bee gee bees" (not to be confused with the Bee Gees who were also scared living down near Biscayne Bay on Miami Beach) out of a lot of people in Florida as it worked it's way NW out of the Caribbean after causing a lot of death and destruction down there. People associate Hugo with Charleston and the area around Charleston..specifically the beaches, the barrier beaches but in fact it hauled ass all the way inland and continued causing trouble in places where pine trees fall down and that are prone to land slides.
There is a beautiful spot where people hike to in Western North Carolina known as Hugo Rocks. No, that is not a rock band..though it is a great name for a rock band.. it's an area where a rock slide brought down boulders larger than cars and closed down the high way up there for a long time. One area in particular is known as "Hugo Rocks" and there's a picture below that I know will rock one particular friend's boat.
Is that awesome or what? Reminds me a lot of Sliding Rock..except of course...without the sliding rock. But, if you need a spot to sit and ponder on life or just enjoy a quiet moment... that looks like a good spot.
Here's another one...
Now, back to tropical weather:
Hurricane David from 1979 is one to think on.. as 1979 has been mentioned by many as a similar year to this year.
When you look at 1979... look at all those long, long tracks inland where those hurricanes caused weather troubles from high winds to flooding rains.
It is not just about the beach gang.. it's about inland flooding, inland twisters and inland misery.
Look just how far inland that beautiful place with the rearranged rocks is exactly... wow.
So stay informed!
Pay attention. Live life, have fun... enjoy the weather. Today I have a slim chance of hail. Oddly, I dreamt about hail last night, honest though it might have been because of a picture Jesse Ferrel sent me of what looked like snow but was hail.
So.............a lesson in life...... one picture does not tell a whole story but it can inspire you to learn more.
The pics of those rocks made me study up on Hugo and discovered what happened after it left the Sullivan's Island.
Keep reading, keep learning and talk to you all soon...got to go to Starbucks and then the gym and those are two of the places you'll find me until we get our first Invest and our first real advisory ...
(Did I mention the view out the window of the gym looking into the "natural area" which looks a lot like a forest to me...is divine, beautiful and inspiration...though if those trees came down in a hurricane it would make a big mess... )
Besos Bobbi
Ps..Good list of storms over history that may have affected your local weather...check it out.
At a race or when there is no race...there is no better place to feel the wind that at a track... unless of course you are at the beach chasing a storm.