Key West, Miami and Del Ray Flooding... Day 3? Someone turn the water off...
Ron Schwartz took this picture earlier in Pembroke Pines, Florida... great pic. Thanks Bro! He's a real estate appraiser... but a great photographer as well and loves to send me pics when ever weather happens and it happens a lot in South Florida.
What a day. Frozen precipitation in Minnesota and Iowa on the news... historic snow totals.
Note the whole area seems to rotate around a point in the NE Gulf of Mexico:
And. no matter how much rain seems to fall the area that is generating the rain is anchored and not going away. And.... the area that came off the Yucatan is growing in size south of Cuba..
Now............down to the south on the other side of that big, swirling blob in the Gulf of Mexico parts of Key West are under water. More ironically.. it's like a bad country song...
There is a convention in Key West of Song Writers. Many of those Song Writers being from Nashville. Today is the 4th Anniversary of the Nashville Floods. Go figure... You can't win for losing, but if you are going to be stuck anywhere in a flood.. better on Duval Street than anywhere else ;)
That's on Duval Street between Carolina and Greene Street.
They have stopped the buses from running and are asking people to hunker down somewhere and wait for the water to go down. And, it usually does go down fast.. usually.
You can watch this live online at the following website:
http://www.seekeywestlive.com/webcams/8
Note not all of Key West is flooding... specific low lying areas that are prone to flooding..
And... the NWS has just issued a "Special Weather Statement" ... in case anyone hadn't noticed..
Event:
Special Weather Statement
Alert:

...A SIGNIFICANT WEATHER ADVISORY IS IN EFFECT FOR NORTHERN BROWARD 
COUNTY...SOUTHWESTERN PALM BEACH COUNTY...NORTHEASTERN HENDRY 
COUNTY...FOR FREQUENT TO EXCESSIVE LIGHTNING AND GUSTY WINDS OF 45 TO 
55 MPH... 
 
THE DEVELOPMENT OF FUNNEL CLOUDS... 
 
* UNTIL 415 PM EDT 
 
* AT 341 PM EDT...NATIONAL WEATHER SERVICE METEOROLOGISTS DETECTED A 
STRONG THUNDERSTORM 5 MILES NORTH OF ROTENBERGER WILDLIFE 
MANAGEMENT AREA...AND MOVING NORTH AT 15 MPH. 
 
* THE STORM WILL AFFECT... 
RURAL WESTERN PALM BEACH COUNTY 
AND SURROUNDING COMMUNITIES. 
THE PRIMARY IMPACTS WILL BE FREQUENT TO EXCESSIVE LIGHTNING AND GUSTY 
WINDS OF 45 TO 55 MPH. LIGHTNING IS THE NUMBER ONE WEATHER RELATED 
KILLER IN FLORIDA. TREES AND OPEN SHELTERS OFFER NO PROTECTION. THESE 
WINDS CAN DOWN SMALL TREE LIMBS AND BRANCHES...AND BLOW AROUND 
UNSECURED SMALL OBJECTS. SEEK SHELTER IN A SAFE BUILDING UNTIL THE 
STORM PASSES. 
FUNNEL CLOUDS OCCASIONALLY TOUCH DOWN AND PRODUCE TORNADOES. MOVE 
INDOORS AND STAY AWAY FROM WINDOWS.
My brother took the picture above in West Broward earlier today... imagine around the time they decided they should post this.......
.....again like shutting the barn door after the horse floats away and drowns...
Key West............
Happening Now: Key West Police: Key West bus service suspended until at least 3 pm due to flooding
---
Story posted

2013.05.02 at 02:15 PM EDT
Happening Now: Key West Police: Key West bus service suspended until at least 3 pm due to flooding
Yeah...good idea there....... someone should tell the Conch Train..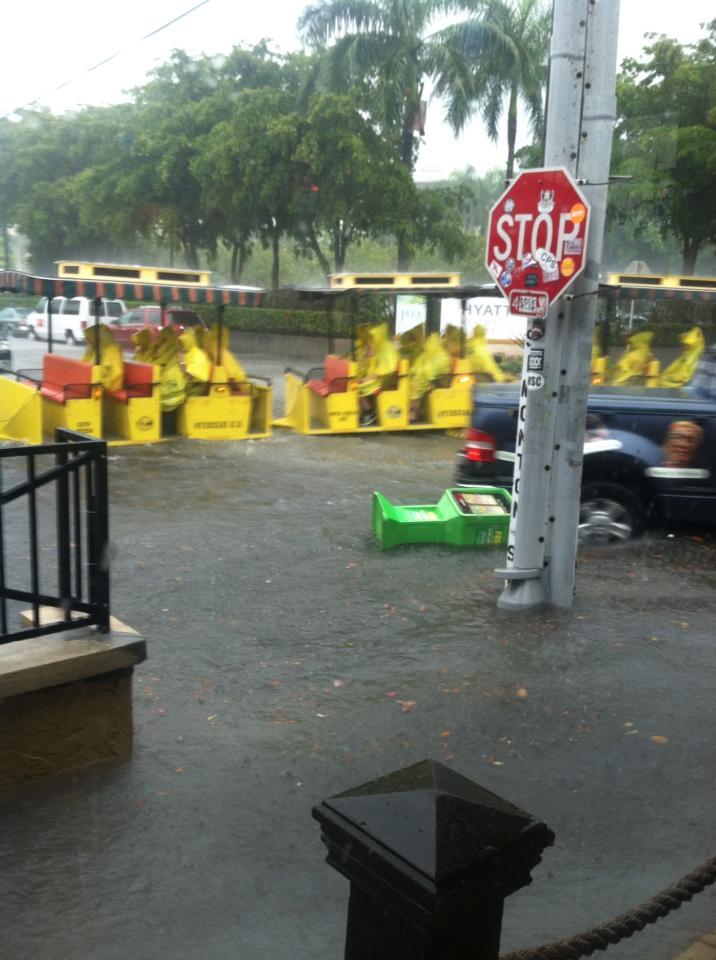 Simonton and Front Street........... posted by NWS Key West.
In the old days the NWS would forecast BEFORE and not post pics AFTER. Just saying...
And, interestingly the area being watched is closer to Florida and larger.
Keep watching...this isn't over until the fat lady sings...and in this case the fat lady could be Andrea in the Gulf of Mexico. Not likely, but that area in the Gulf isn't going anywhere ... the news racks in Key West are floating away ,,,
Now THAT IS news.......
Besos Bobbi