60% Chances Colin Forms in Carib Aims At Florida. Take This Weekend to Start Your Hurricane Shopping..Shop, Store it Away So You Have It. You may need it sooner than you think.. in Florida. Why a Hurricane Map is like a Pirate Treasure Map
State of the Tropics Friday


Watch the loop below and you'll understand why.
Current models for Bye Bye Bonnie
Caribbean Convection to be Colin

Models below
Loop showing you where X marks the spot of conception for Colin.
Congregating Convection in the Caribbean
Woke up this morning slowly.
After a day trip to Charlotte I wanted to stay in bed.
I actually wanted to go back to sleep....
I remembered it's June 3rd....
Orange Circle in Carib.
Wondered....
How it was doing?
Wow did that loop above wake me up!!
Almost better than coffee...
Again it's just convection congregating in the Caribbean right now.
Strong wind shear or strong enough to interfere.
But climo wise it's in the right spot.
Weather history on it's side.
You can look to the N and see why this is a FL storm..
NOT a Texas storm.
When you have fronts on the map in June.
Everything moving very slowly East.
Diving air, cut off lows, messy currents...
Tropical Storms pull up out of the Caribbean and veer right..
Florida or bust!
Sometimes they linger around the Yucatan and W tip of Cuba.
This is NOT the track of Colin.
It's the track of Alma.
But Alma is a perfect example of a June TS or Hurricane.
The generic track we are discussing.
Alma 6/4/1966 - 6/13/1966
Where it forms is the key here.
It's the X on the Pirate Treasure Map.
It's where you start digging in this case...
....or where the models begin to initialize.
Where it's story begins.
Whether it goes up into Big Bend.
Where it forms and when .. tells the story.
Goes more N or gets pulled in...
Towards Tampa or 100 miles in either direction.
That's the story.
Fronts not strong enough to ride up the Keys like in October.
But it will bend right somewhere.
Also decides where Jim Cantore goes...
...some beach on the West coast of Florida.
And where Cantore goes storm chasers follow...
Note take out girl and insert storm...
..dreams of storm chasers ;)
Meanwhile it's just convection in the Caribbean.
NHC pulled out their orange crayon today.
60% chances is almost an orange-red crayon
Bonnie still on the map but leaving.
The X marks the spot development may occur.
The orange is for within 5 days.
Note part of that orange is over land..over Florida already.
As in Landfall...
Is this confusing?
Were you better at coloring than math?
Me tooooo
So I'll code my circles in colors for ya.
Red-Orange.
Forecaster Beven is good at words and math.
"1. An area of showers and thunderstorms has developed over the western
Caribbean Sea.  This system is moving west-northwestward toward the
Yucatan Peninsula of Mexico, and a low pressure area is expected to
form over the Yucatan or the adjacent waters by late this weekend.
This low could develop into a tropical cyclone as it subsequently
moves across the eastern Gulf of Mexico and the Florida Peninsula
early next week.  Regardless of development, locally heavy rains and
flooding are possible over portions of the Yucatan Peninsula,
western Cuba and the Florida Peninsula during the next several days.
* Formation chance through 48 hours...low...10 percent
* Formation chance through 5 days...medium...60 percent

Forecaster Beven"

Another colorful loop shows this well.
First note the small swirl off OBX.
That's Bonnie riding the coast.
Next look at the Caribbean if you aren't already.
How we read this simplistically is this...
When the oranges turn to red-orange...
...and when they start to curl into a ball.
We have a countdown for tropical lift off!
Watch the Caribbean.
Down near the N coast of South America...
(where my daughter decided to take a vacation this weekend)
Apparently Colombia is in again.
Thank you Sprint Airlines.
I don't like to take Spirit to NYC...
...but she's in Bogota this weekend.
I know I'm digressing.
Know why?
Because we have time...
..nothing is happening today.
But over the next few days pressures could lower.
A center could form
That center pulls north through the Yucatan Straights..
Florida bound.
No matter where it makes landfall..
Everyone gets rain, heavy rain to be exact.
That's the 5 day rainfall forecast totals.
In Sept when there are early fronts they take the systems out to sea.
In June when there are still fronts they bring systems up into the GOM
It's way more complicated than that but I'm keeping it simple.
K.I.S.S.
Keep it simple silly ;)
There are many sites that can and will explain the depth of details.
Meteorology is filled with details.
Dew points.
Ridges.
Trofs of all kinds.
Cut off lows.
MJO
For more reading information refer to these 2 great links.
http://tropical.atmos.colostate.edu/forecasts/
http://www.aoml.noaa.gov/hrd/tcfaq/tcfaqI_old.html
I know a lot of brilliant meteorologists.
They are 2 of the best.
Good reading to learn depth of details.
Only detail you need this morning is: 60%
60% chances of TS Colin forming.
Better than average odds.
How many lotto tickets would you buy if you had 60% odds?
Yeah... right.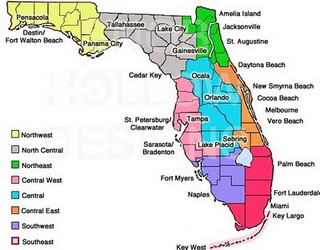 BobbiStorm's Bottom Line:
There is way too much model agreement to discuss any other track besides St. Pete or Tampa Bay or Sarasota. Cedar Key is probably as far N as it would go at this point... can't see further S than Naples. The cold fronts are there but not that strong, not diving down to Key West like they were a month ago yet strong enough that they should pull it across the State of Florida. Tampa Bay to Orlando to Daytona. Think I-4 for now though that could change. Gainesville - Ocala area could be impacted along with towns like Maitland. The rain will most likely be misplaced some to the S and E so most of South Florida will receive tropical rain with some winds ...the exact wind speed dependent on how strong Colin becomes if indeed it forms and it's a pretty certain end result this will be Colin. A strong Colin or a weak Colin we will know after it forms and models get better at digging for the treasure. The treasure in this case being the best information they can give the public to properly prepare. This Sunday if you live in Florida... go shopping for your most basic hurricane supplies before Publix is out of water, canned tuna and peanut butter.
As for the end game, I'm not sure I'm buying the track far off the East Coast. I need to see the strength of this system that is going to rip it away as fast the models indicate. Again models indicate and forecast they do not predict the future they indicate the most likely outcome. Remember that... we are getting better but off the coast of Carolina out to sea is more than 5 days away so I'll say more on this on Sunday in depth. Later today I'll update with more details and discussion. As we say in the newspaper business this is a developing situation. That low down by Texas is creating massive misery and my hearts and prayers go out to the people dealing with those deadly floods. Colin may not be going there but that system will make a big difference on Colin if it forms as the models indicate. I do believe it will cross Florida but how fast is the big question and where it ends up after Florida is a bigger question. IF the models are correct on forward speed it's nothing for the Carolinas to worry on ..however ... I think it's too early to say OBX doesn't get more rain from the next system as the pattern is pretty set in the short term.
Besos BobbisStorm
Ps. Note again this is the weekend to prepare in Florida.
Stock up, store things away.
Make a plan.
This video is from last year but same message and a good one.