Never Forget Hazel! Lessons Learned from the Polar Vortex...
No that's not damage from the Polar Vortex that's just one scene of the widespread damage that Hurricane Hazel wrought as she raced north wreaking havoc far inland.
One of the places far inland she affected was Raleigh, NC where wind speeds were measured at 90 MPH at the airport.
Never forget Hazel... and yet this week many meteorologists around the country did forget.
The 86 MPH wind gust at RDU from the deadly storm that raced through Raleigh on Saturday was incorrectly labeled on air and online as "record breaking" when it fact...Hazel holds the record. A woman out for a walk with her son and husband died when a tree fell on them making this not just a weather event but a deadly storm. Power was out for many, pine trees fell across homes and highways.It was a deadly mess.
I knew that the figure for the 86 MPH wind gust was off as the "record" as I am a specialist in Hurricane History and I wondered where they came up with that figure and why so many people were quoting it.
90 MPH from Hurricane Hazel was always the bar for Raleigh.
This housing complex under construction is not very far as the crow flies or the the gusts gust from RDU
click on the link below to see the video
http://wral.com/1076424
I interviewed someone recently who remembered flooding rains in Canada from Hazel.
The link below is from the NWS and goes over the events in detail and the damage done by Hazel as she zig zagged her way north out of the depths of the Caribbean towards Canada. Morehead City, NC took one of the hardest hits as seen by the picture at the top of the blog.
http://www.erh.noaa.gov/mhx/EventReviews/19541015/19541015.php
"As Hazel moved rapidly inland, its winds only slowly diminished with a gust to 110 mph reported at Fayetteville and 90 mph at the Raleigh-Durham Airport. Wind gusts near 100 mph were reported from numerous locations in Virginia, Maryland, Pennsylvania, Delaware, New Jersey, and New York as Hazel raced northward. "
http://en.wikipedia.org/wiki/Hurricane_Hazel
Weather people today get very lost in online statistics and pay way too much attention to details online without checking the details. Recently someone at TWC apologized for reposting pictures from online sources that were in fact from storms long ago.
For instance this image got posted around often last week ....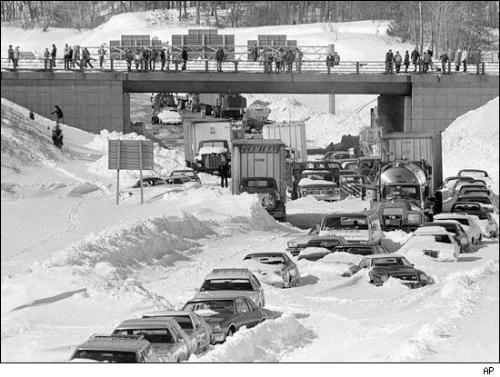 As people stranded in the middle of the Polar Vortex ....THE POLAR VORTEX.
It is in fact from the intense winter of 1978 that took Chicago by ... snow storm...
People don't check facts anymore.
Raleigh's top gust is infamous for Hurricane Hazel ....seems a lot of weather people out there in the media today don't know history as well as they know how to search improperly for information on the computer :)
When looking to quote records double check your sources and remember ole Hazel as a lesson ... I can't begin to count the number of professional sources who went on air Saturday Night and Sunday Morning with the news that the deadly storm set records in Raleigh for the highest gust ever on record...
Next time you hear a wild fact online... remember Hazel :) and check your sources...
Mucho Besos Bobbi