Invest 98 Hanging in there. Phalin goes in for the Kill... BIG, BAD STORM... Far Away in India
All eyes are on India today as Phalin goes in for the kill... big bad storm nowhere near here...
More on Phalin and it's track later...for now let's look at our side of the world.
On our side of the world there is an orange circle over an area of low pressure which looks kind of broad and has the highest noticeable chances of becoming Lorenzo. Still far from a "sure thing" and I like "sure things" when it comes to predicting tropical evolution.
The North Atlantic has a nice Gale System...
Down in the Caribbean there is "weather" to watch on the back burner.
Near Panama off the North Coast of Columbia.
The problem is the diving ULL created by the cold front that ate most of the Caribbean and is giving Miami cooler than normal temperatures for this time of year.
The rest of the tropical meteorology world is watching Phalin in the Indian Ocean... a very strong cyclone. A Category 5 which could go into the record books for death and destruction.
Beautiful, but deadly.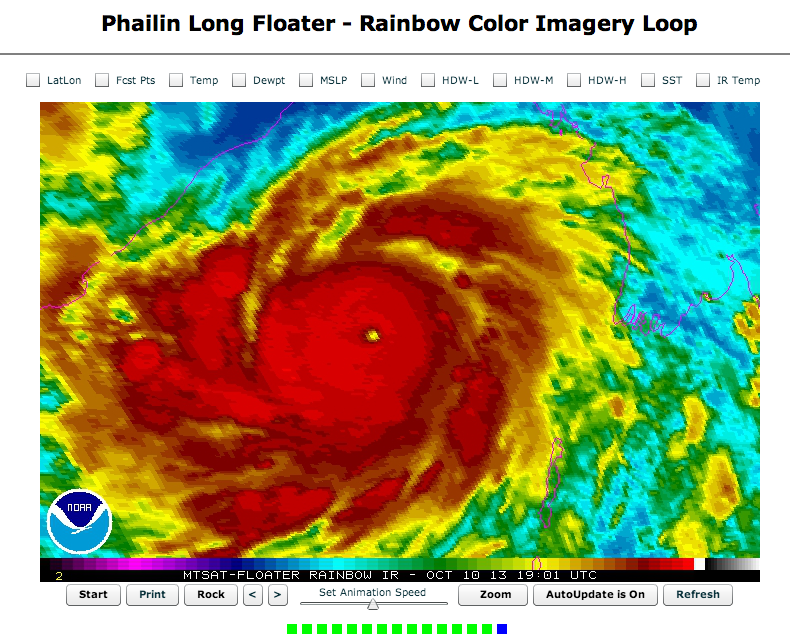 http://timesofindia.indiatimes.com/india/Cyclone-Phailin-Heavy-rains-lash-Andhra-Odisha-seeks-Armys-help/articleshow/23921330.cms
http://qz.com/134028/cyclone-phailin-is-half-the-size-of-india-and-strengthening-quickly-as-it-heads-for-land/
This is a worst case scenario in ways that can bring dynamic change to a region that is not able to handle a disaster on this size ..... and it has been compared to Katrina in size and scope for multiple types of disaster.
Latest info currently.
So, be happy there is no big, bad Phalin on our side of the world today. Pray for the people in it's path.
Enjoy the music while you watch the loop of the our side of the world...and wonder if Invest 98 has a chance to be the L storm and make it very far across the ocean... keep watching... it's what we do... like a bunch of weather stalkers...looking for the real thing....
http://www.youtube.com/user/simplyredvideo