Tropical Storm Fernand 50 MPH... CV Wave Entering Stage Right
Tropical Storm Fernand has 50 mph winds and is strengthening tonight as it's moving into Veracruz Harbor.
However, many meteorologists are watching the wave coming off of Africa. Models show the wave developing .....
Canadian Model takes the wave and keeps it intact halfway across the Ocean.
http://moe.met.fsu.edu/cgi-bin/cmctc2.cgi?time=2013082512&field=Sea+Level+Pressure&hour=Animation
The GFS Model doesn't develop the wave until around 55W when it goes Gung Ho and it develops in addition another storm behind it!
http://moe.met.fsu.edu/cgi-bin/gfstc2.cgi?time=2013082512&field=Sea+Level+Pressure&hour=Animation
This little wave is rolling as it comes off of Africa. This little wave has the potential to make it across the Atlantic Ocean. This little wave has a chance to get the G name if it lives up to the early model forecasts.
Enter Stage Right............
This little wave has lots of family members behind it to take it's place if it doesn't make it............
Really, when looking at a picture like this one should play Jaws music........
MOJO getting going in our basin also...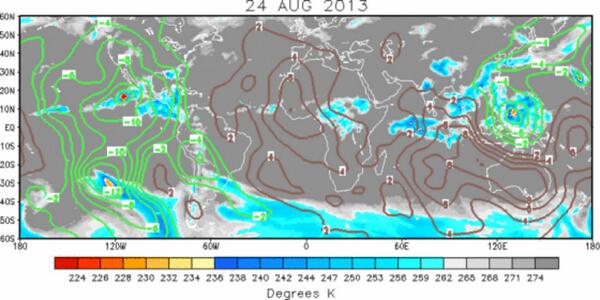 So...as Fernand moves towards Veracruz and other ports of call in Mexico... keep watching as a new wave is entering stage right and some models...some big models like the GFS show it developing..
REPORTS FROM AN AIR FORCE RESERVE RECONNAISSANCE AIRCRAFT AND
OBSERVING STATIONS IN VERACRUZ MEXICO INDICATE THAT MAXIMUM
SUSTAINED WINDS HAVE INCREASED TO NEAR 50 MPH...85 KM/H...WITH
HIGHER GUSTS. SOME ADDITIONAL STRENGTHENING IS POSSIBLE BEFORE
FERNAND MAKES LANDFALL ALONG THE GULF COAST OF MEXICO EARLY MONDAY
MORNING. WEAKENING WILL BEGIN AFTER THE CENTER MOVES INLAND.
BULLETIN
TROPICAL STORM FERNAND ADVISORY NUMBER   3
NWS NATIONAL HURRICANE CENTER MIAMI FL       AL062013
1000 PM CDT SUN AUG 25 2013

...FERNAND CONTINUES TO STRENGTHEN...
...TROPICAL-STORM-FORCE WINDS LASHING VERACRUZ HARBOR...


SUMMARY OF 1000 PM CDT...0300 UTC...INFORMATION
-----------------------------------------------
LOCATION...19.3N 96.2W
ABOUT 5 MI...10 KM N OF VERACRUZ MEXICO
ABOUT 140 MI...225 KM SE OF TUXPAN MEXICO
MAXIMUM SUSTAINED WINDS...50 MPH...85 KM/H
PRESENT MOVEMENT...W OR 280 DEGREES AT 9 MPH...15 KM/H
MINIMUM CENTRAL PRESSURE...1001 MB...29.56 INCHES



Hey...somethings got to give soon in the Atlantic.... so as tropical storm force winds lash Veracruz Harbor... know that Gabrielle maybe waiting in the Western wings...
(great discussion tonight from NHC...love it)
Sweet Tropical Dreams...
Bobbi Storm