TD 11 Forms in the Atlantic & Invest 97L in the Caribbean THE System to Watch.. Florida pay attention..
Not going anywhere fast and not doing anything exciting to talk about .....but it is there and it does have a designation and it is Tropical Depression #11.
Now look to the SW in the Caribbean where I have said for days something would develop. This is prime time for Caribbean storms to develop a larger than life storm ....if the current environment will support such a storm.
There is currently shear there and this forecast for a Caribbean storm is for a storm in a day or two.. maybe Tuesday. But, currently it IS an INVEST.
Note the models possibly take this storm up towards the Central Gulf and possibly towards FLORIDA.
I say that in big letters only because Tampa Bay and the NW coast of Florida is prone to getting late season storms.
http://upload.wikimedia.org/wikipedia/commons/thumb/b/b1/Opal_1995_track.png/762px-Opal_1995_track.png
"After languishing for days and nearly dissipating due to the ocean-cooling effect of its own rainfall, it rapidly intensified to a hurricane and began moving north across the Gulf of Mexico. It deepened to a
Category 4
hurricane with sustained winds of 150 mph (240 km/h) and a central pressure of 916 millibars (27.0 inHg)
[1]
[3]
possibly due to crossing the
Loop Current
.
[2]
During this period of rapid strengthening, a small eye formed with a diameter of only about 6 miles (9.7 km). The hurricane then underwent an
eyewall replacement cycle
to a 60-mile (97-km) eye,
[1]
combined with increasing wind shear, causing the pressure to rise steadily over the next 8 hours to 940 millibars (28 inHg) as the maximum sustained winds diminished to 125 mph (201 km/h). Opal weakened still to 115 mph (185 km/h) before its final landfall in
Santa Rosa Island, Florida
on October 4.
[2]"
Above discusison from Wikpedia... a storm many remember. One of the first I tracked online.... I remember it well.
Tampa Bay Hurricane of 1921 was more of a West Bound tropical wave that moved north late in the season.
Again.... a lot depends on where the storm makes that turn.
Does it go WNW towards BOC or does it move more to the North and NNW and then NNE and become a threat to the NE Gulf Coast?
That my friends only time will tell.
And, you can bet your last dollar I'll be here writing nonstop if this becomes that storm.
AND.... worried also on the possibility that due to shear the "weather area" will blow off often towards SOUTH FLORIDA the same way it did with Hurricane Irene a truly October storm.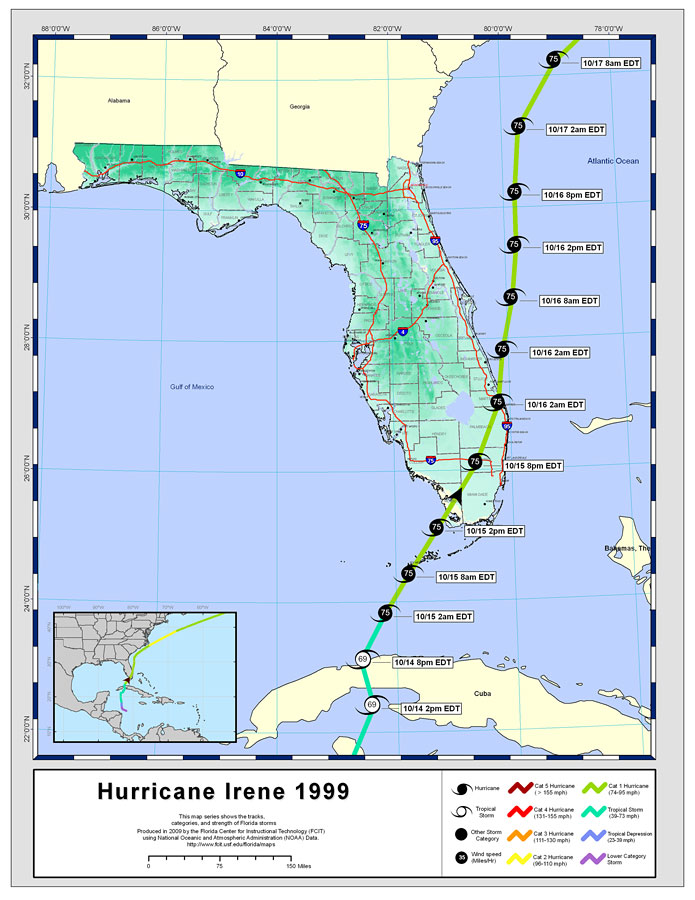 Note how it takes the right track... others take the left track more west into the GOM.
Truth is...honestly... it's just too soon to tell. It is barely there and we are talking in the future with this storm.
As for TD 11.. it's on the books.... might loop around a bit but it will eventually go out to sea.
Frontal boundaries are a game changer and this coming week there is a blocing high along the East Coast and the fronts will stay to the North. Temperatures will be on the rise in places that have been frequented by cold fronts. Again, remembr what I said about Indian Summers. They give the potential for tropical trouble.
I'll be back later tonight with a longer update with more model discussion and thoughts on satellite imagery.
My best friend is in Raleigh today and leaving later. She spent the holiday here and now we are going to show her around town and I have a daughter at NC State that needs attending to ... food, grocery shopping and I've been home for THREE days for the Jewish Holiday of Simchas Torah. A lot of fun...but need to get out and about and work off some of those calories.
More later...stay tuned.
Keep watching..not a lot down there now but you see the trough like plume of moisture moving up towards Tropical Depression 11.
TD 11 being a fixed feature on the maps for the next five days or so is going to keep this puppy in the Carib on a tight leash and possibly keep it from going to the west as the ones before it did. Thus making the West Coast of Florida track more likely than it might be had Tropical Depression 11 not been there at all.
Sometimes a storm like TD11 seems unforgettable, however it can be a game changer as much as a front in a quiet, sneaky way helping the bigger storm become the one that everyone remembers.
Besos Bobbi