Watch Life of Bill Video. TS Bill Over Texas. 2nd US Landfall of the 2015 Hurricane Season!!
Great picture.
Tells the story.
Says it all.
Look at those winds.
Wrapped tightly around the center.
Landfall
There is one problem with Bill making landfall.
A large part of Bill's moisture is still over the GOM.
During the day today Bill developed a long tail.
That tail sucks up moisture.
Tropical Moisture.
Slowly the High pushes West
Note the consistency of the ITCZ below the HIGH
Moisture flowing up from GOM into Texas
Also note with all the talk on the EPAC
Bill dwarfs Carlos.
Size of the pocket Bill is in..
vs
Carlos, small and compact.
Bill is leaving a huge moisture footprint.
Nice new graphic on www.spaghettimodels.com
Understand Bill was right on time for his date with Texas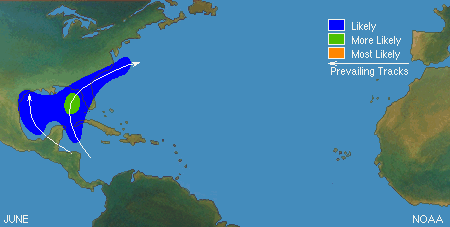 Also worth noting that in every one of the analog years from CSU
A tropical cyclone made landfall on the Gulf Coast.
You can trust me or you can use this link below and see for yourself!
http://weather.unisys.com/hurricane/atlantic/
So far chalk one up for CSU team
You can almost chalk one up for Jim Williams
www.hurricanecity.com
I'm seriously hoping he is wrong, wrong, wrong about Key West...
He has a system of mathematical calculations.
Combined with an extreme knowledge of hurricane history.
He makes good predictions and he has been right often
http://www.hurricanecity.com/predictions.htm
To me it's more important to know which areas may be at higher risk
Than to publish guessing games like you are betting on the lotto
Example below from an earlier blog post I made
Hmmmnnnn
Tell me WHERE...
Where they hit is more important.
So far in 2015 we have had 2 US Landfalls.
Ana
Bill
Both made landfall
Where's Claudette I wonder?
Note for all the talk on the busy Epac system...
...they are only 1 named storm ahead of the Atlantic.
Note despite it being an El Nino year..
Cape Verde Waves keep rolling West ....
...as if they didn't get the memo...
The water is cool out there now.
More worried they come in under the radar
Under the big bad High...
And blow up in warm water close in to the US coast.
I'm not saying they will...
I'm saying they could!
A look at Bill 12 hours ago..
A look at Bill currently...
The center of Bill is over land.
7:00 PM CDT Tue Jun 16
Location:
29.0°N 96.9°W
Moving:
NNW at 9 mph
Min pressure:
999 mb
Max sustained:
45 mph
Note discussion from NHC says what I said earlier
It took a brief wobble west...
Tomorrow we will see how much damage Bill has done.
Tomorrow we will see where Bill went.
You might be reading this tomorrow...
(In which case, Good Morning!
Hope you slept well!!)
It's always nice to discuss tropical storms with others.
Make sure you become part of the Facebook Discussion
https://www.facebook.com/TropicalUpdates?fref=ts
Wild Bill
Run amok in Texas...headed into Oklahoma.
Pretty much says it all for tonight!
Besos Bobbi Storm
Ps. Check out the mesmerizing video of the life of Bill